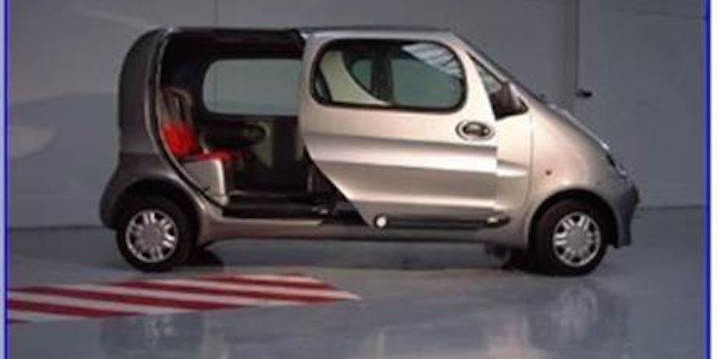 Following twelve years of innovative work, Guy Negre has built up a motor that could turn into one of the greatest technological headways of this century. Its application to CAT vehicles issues them huge environmental and economic advantages. By combining bi-energy (fuel + compressed air) the CAT Vehicles have expanded their driving extent to near to 2000 km with no-pollution metropolises and extensively less pollution outside the metropolitan regions.
Likewise, the utilization of the MDI motor in different territories, outside the auto segment, opens a huge number of potential outcomes in nautical fields, cogeneration, assistant motors, electric generators bunches, and so forth. Compressed air is another reasonable type of force that permits the amassing and transport of energy. MDI is near to launching the creation of a progression of motors and vehicles. The organization is financed by the offer of assembling patents and licenses throughout the world.
The MDI MiniCat – The Air Car – truly is a progressive urban arrangement. While conveying the full MDI "no-pollution" compressed air innovation, the vehicle is very compact. Just 2.65 m long, capricious width and stature make MiniCat a definitive city vehicle: easy to park and non-polluting.
And the uplifting news doesn't stop here: the MiniCat has two other awesome pros: It comes with three seats and a trunk space for your stuff… What else do you want?
Technical Specifications:
Motor:
CAT's 4 cylinder engine, 800 cm3, peak power of 25bhp at 4000rpm.
Length:
2.65m
Width:
1.62m
Height:
1.64m
Weight:
550Kg
Seating:
3 front seats.
Maximum load:
270Kg
Refilling time:
3 hrs 30mins – 4 hrs from a 230V mains connection;
2 hrs 30 mins – 3 hrs from a 380V connection; and
2 minutes at a high-pressure air station..
Mileage for city driving:
150Km
Maximum speed:
110Km/h
If and when the car launches, the team at PakWheels will cover it and bring more information to our readers.