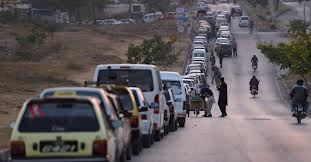 More than 150 CNG stations close down their operations for good
'Those who can afford petrol are blessed and lucky individuals', words I have heard repeatedly as we come across the long queues of CNG, one cannot stop to thank God and take breath of sheer relaxation that we can, afford petrol.
But soon the weight will be transferring from one end to another, abruptly as we don't see anyone, nor the oil companies neither the government preparing to control that sudden demand increase tenfold for petrol.
Out of 300 CNG conversion stations, over 150 CNG stations have decided to shut down their operations, once and for all as the CNG crisis continues move on.
The owners of conversion stations said that they tried to revive the CNG sector by cutting their profit margins in half, despite facing strict ban of the import of CNG kits and cylinders, but all their efforts after what they said 'a fabricated CNG shortage' went in vain.
They said the business of conversion stations had drastically declined as the consumers after CNG crisis were now reluctant to install conversion kits in their vehicles.
Moreover, before the crisis the stations used to sell 10 cng kits a day but ever since the crisis began, they are not even able to sell 10 kits in the whole month.
They said that after few cylinder blasts occurred, government officials performed surprise raids, which were solely aimed at getting bribes, and added that those officers after examining all legal documents used to threaten them for high penalties, if they refused to grease their palms.