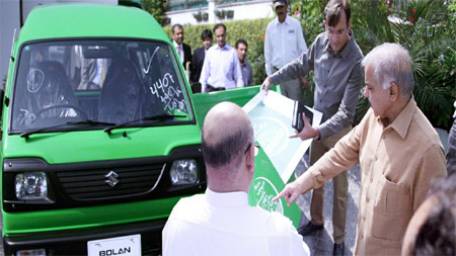 More vehicles would be distributed as CM Punjab approves Apna Rozgar Scheme 2014
LAHORE: The Chief Minister of Punjab, Shahbaz Sharif has given approval of the Apna Rozgar Scheme 2014 at a meeting on Tuesday. This scheme is once again designed for the unemployed youth of the country through which vehicles will be given to unemployed young girls and boys with lenient terms and conditions under the Apna Rozgar Scheme 2014.
While addressing the meeting, The CM Punjab, Shahbaz Sharif said that 10 percent specific quota has been allocated to South Punjab through this scheme already. He further added that the scheme gives an opportunity to unemployment youth to get employment.
Only merit should be considered during Apna Rozgar Scheme, and there should be no lapse in the transparency when the scheme starts this month.
Shahbaz Sharif considers youth as the most valuable asset of the country. He said that the government is empowering this asset by providing them respectable job opportunities. CM also inspected the vehicles that would be given to the beneficiaries on lenient terms and conditions.