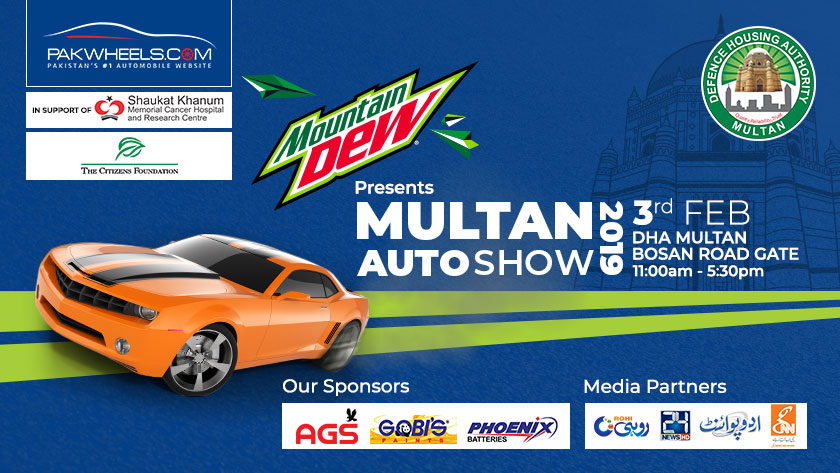 PakWheels.com to host Multan Auto Show 2019 in February
For the biggest auto show in Pakistan, be in Multan on February 3, 2019. PakWheels.com will be there along with Chevrolet Camaro (Bumblebee), Toyota Tacoma, and FJ Cruiser, to name just a few. Our media partners Urdu Point, GNN and Rohi News, 24 News will cover this event and as always, The Citizens Foundation and Shaukat Khanum Memorial Cancer Hospital & Research Centre will be there too.
This is the 5th episode of Multan Auto Show. PakWheels.com has been organizing this event in Multan since 2015. The last episode of Multan Auto Show was presented on February 9, 2018, at Bosan Road, DHA, Multan. It was our biggest ever auto show in the City of Saints with over 25,000 car enthusiasts from all south Punjab. More than 250 selected automobiles took part in the event from all over the country, including vintage, exotic, luxury, 4×4 vehicles and bikes. Bentley and Ford Raptor were particularly the point of attraction for many.
Keeping with its legacy, PakWheels Multan Auto Show 2019 promises to be the biggest event of its type in the city. Sponsored by Phoenix Batteries, AGS, and Gobis Paint, Multan Auto Show 2019 will also showcase a collection of vintage and exotic cars. So be there.
PakWheels.com extends its thanks to DHA Multan for collaborating on organising such an amazing event.
About PakWheels.com
Since its inception in 2003, PakWheels.com has helped millions of Pakistani(s) buy and sell automobiles, becoming the no.1 automotive portal in the country. From news to reviews, PakWheels.com help people to stay updated about the local and international auto industry.
From amazing auto shows and rallies to organizing the first of its kind Certified Used Car Mela, We are thrilled to be pioneers of revolutionizing the auto sector.