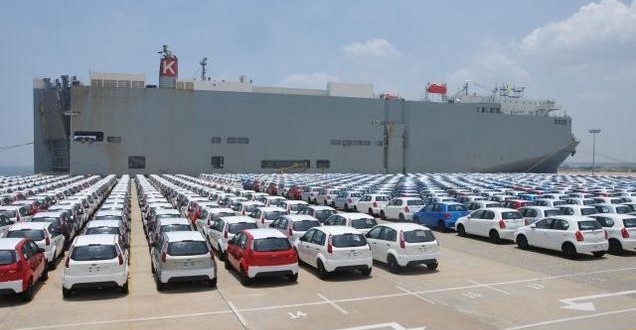 Must read: State Bank of Pakistan in favor of opening car imports
While most of us believe that auto imports are bad for the economy as dollars go out when you import cars, and dollars are something this country doesn't have, and then producing locally is also more favorable because it produces jobs, taxes, supports the industry, and many, many other fancy things but lately, the local automakers have done such a fine job of ripping Pakistanis off that most of us, are ready to have that sour bite and open the car imports to suppress the monopoly and level the competition. For example; there is no car available (Except 30 years old Suzuki Mehran) for you if you have a budget of under 1 million rupees.
But who are we to say or comment when institutions such as the State Bank of Pakistan are coming out in favor of car imports. SBP has just endorsed Competition Commission of Pakistan's (CCP) assessment in which they supported to allow import of new cars to reduce the protection of the local automakers.
SBP, in its annual report, said, "We believe a more balanced development of Pakistan's automobile sector requires increasing the level of competition by opening up the market to imports."
If you'd think that it is just angry customers and noisy PakWheelers who protest against the bad quality of cars produced locally at high prices, then think again as SBP just came out as a PakWheeler as in its report, SBP lamented the same fact while doing a comparison between Pakistani and Indian auto industry. The report said that its the inability and unwillingness of the local automakers to provide better quality vehicles at competitive prices, even the dependency on imported parts could not be phased out despite being given protection under the deletion policy, famous case in point is of Pak Suzuki's Alto which had to shut up shop since Pak Suzuki couldn't even made Alto's part locally but thank God they couldn't, or else it would've stuck with us for decades.
But the deletion policy which gave protection to local automakers bore no fruit, but Pakistani government was adamant on protecting the local automakers and thus introduced a Tariff Based System (TBS) in Auto Industry Development Program I or AIDP-I in FY06-12. This new plan's target was to help the auto sector produce 500,000 cars by end of June 2012.
Along with TBS, a long-term import duty structure was also introduced to help automakers attain the goal and despite being provided protection by the government from 1985 to 2006 and again in 2006-2012 wherein duties were lowered, but the actual production of cars were only 132,661 units by the end of 2012 fiscal year, which was terribly low than the expected 500,000 target.
Pakistan though is only able to manufacture the easy parts such as: Sheet metal, interior trim, seats, rubber & plastic parts, batteries, wheel rims, tyres, and lighting accessories while the more sophisticated parts or those which require higher technological and engineering input such as engine and transmission are imported. The report stated, "This implies that a significant part of the cost of production is vulnerable to movements in the exchange rate, which forms the basis of frequent increases in retail prices. Pakistan currently imports 57 percent of its total auto-related raw materials from Japan and Yen movements against the PKR plays an important role in the final price."
57 percent is a massive number despite the industry being under protection for about two decades, while Pakistan and India share the same vision for their auto industries which is, "promotion of local technology and designs, less dependency on imports, and achieving international competitiveness," however, Pakistan is unable to meet its goal.
While in India's auto industry, it has developed the capability to produce all automotive parts such engines, suspension transmissions, brakes, etc etc which has made Indian auto industry gain freedom from exchange rate fluctuations while also reducing the cost of production and the competition has increased efficiency in its auto industry.
The SBP report also lambasted the government for its inconsistent policies, such as when the government reduced the imported car age from 5 to 3 years, resulting in reduction of used import cars and such steps only benefits the producers and not consumers who should be protected by the government.
India's industry also offers a wide variety but majority of its demand is in the 800-1000cc cars' segment while surprisingly, the big cars (1300cc and above) are just as popular in Pakistan despite having similar socio-economic foundations, and similar demand patterns.
Pakistani auto industry is also working on 50 percent capacity compared to India's 75 percent, while the product range in Pakistan is also very limited and thus the demand for locally made cars is stagnant and as a result, buyers and consumers prefer imported cars over local ones as they offer more options. The report said that if Pakistani auto shoppers received a wide range of locally produced cars such as India does, it would lead to an increased demand and higher capacity utilization.
India also has tough regulations governing auto imports to protect its auto industry, which are as follows:
(a) import duty on cars is 100 percent;
(b) new vehicles can only be imported via the ports of Mumbai, Chennai and Kolkata;
(c) cars older than three years cannot be imported;
(d) used cars can only be imported through the port at Mumbai;
(e) import of vehicles with engine sizes between 1000cc and 2500cc, is totally banned.