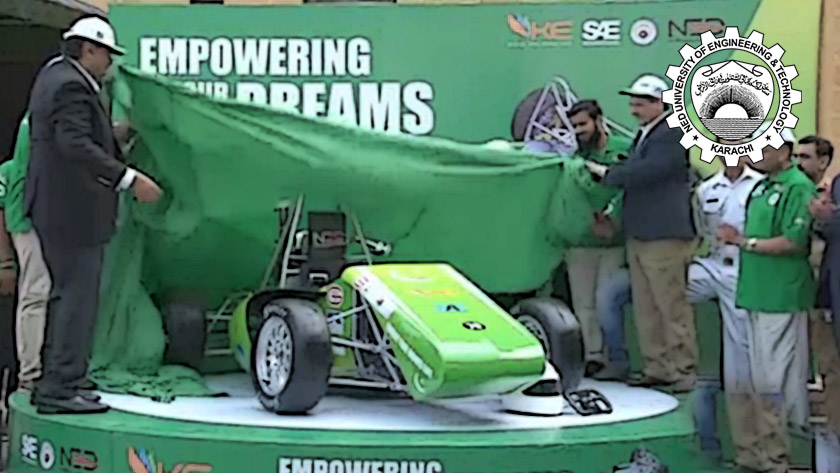 The hardworking students of NED University Karachi have, for the first time, developed a Formula One SAE car and have amazed the people. It is the first of its kind car developed by the students of a governmental university. The revealing ceremony was inaugurated by Governor Sindh Ishrat ul Ibaad on Tuesday. He appreciated the hard work put in by the students and the teachers of the university and wished them best of luck for the future.
This F1 SAE car will compete in a Formula SAE racing event to be held from 22nd to 25th July 2016 in Italy. The purpose of the event is to make the smaller cars, that have been developed as the Formula One cars, to compete with each other. Around 250 teams across the globe are taking part in the event including teams from the USA, UK, Germany, Brazil, Japan and Australia. Pakistani team will be competing under the leadership of Muhammad Ahsen Arshad and Muhammad Raffee.
Also Read: LUMS Students' Team To Present At Hyperloop Design Weekend
The car will be bearing number 70; a node to Pakistan's 70 years since independence. Governor Sindh met with one of the NED university delegations and assured them his every possible support during the travel and lodging. A private company K-Electric is also financing the team.
The car has been built on international standards and regulations. The approximate expenditure on the preparation of the car is estimated at Rs. 2.3 million. Government Sindh played an important part in meeting the budget restrictions whereas the competition entry fee of $2000 and $4000 for the engine of the car were collected by the students on their own.