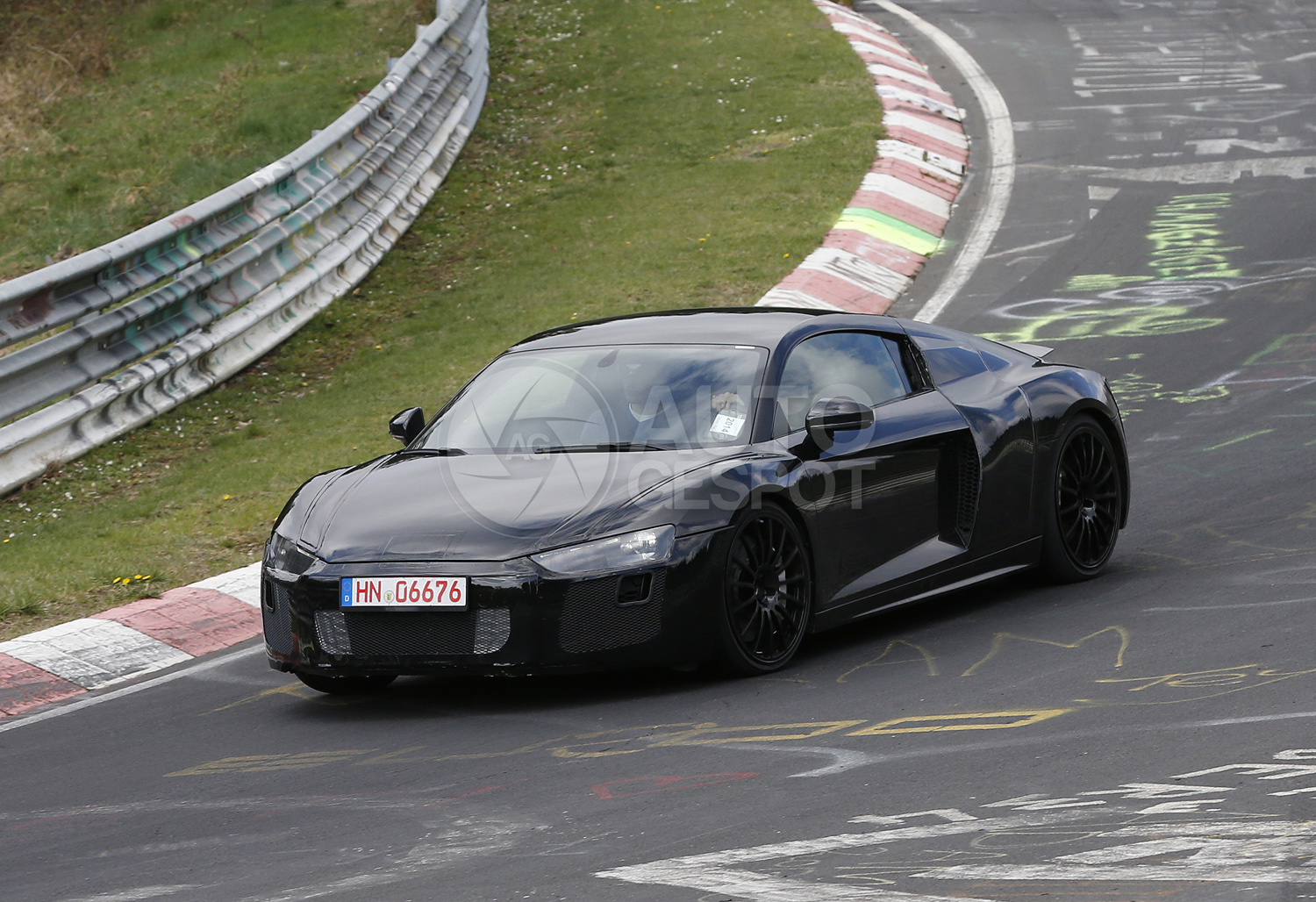 All-New Audi R8 spotted under testing
The Audi R8, Audi's only supercar which has been in production since 2007, is finally undergoing a re-do. The next generation Audi R8 was recently spotted under testing as a test mule at The Nurburgring by Autogespot.
By judging from the pictures provided, we can notice under the camouflage that the headlights are probably taken from the new Audi TT, the exhaust pipes are now rectangular instead of the conventional round-tipped also the rear bumper has more of a boxy look to it. The rear lights look as if they were taken out of an Audi A6, narrowed down and then flipped the other way around.  The retractable spoiler looks the same as it is on the current generation. Other changes that are noticeable is the newly designed front bumper but does not bear the traditional Audi teeth grill anymore. The car in general looks longer after the B-pillar if you look closely. It could be to move the firewall further away from the engine bay so it doesn't engulf itself, *enter rear-engine catching fire joke here*. Also, no pictures or details on the interior as of yet.
Enough with the visual appearance, let's get to the technical details. The current N/A (naturally-aspirated)  4.2L (4200cc) V8 is said to stay but with the power rising from 424BHP to 444BHP the 5.2L (5200cc) FSi V10 will also be optional and it will be re-tuned as well from 518 to 542BHP. The Volkswagen Group owns Audi as well as Lamborghini. So, like the new Lamborghini Huracan the new Audi R8 will unforunately not have an optional manual gearbox to choose from anymore, it'll have a 7-speed dual cluth gearbox mated to Audi's Quattro all-wheel drive system.
A lighter overall chassis is expected with carbon fiber insertion to reduce significant weight. Much better 0-100Km/h timings and improved Nurburgring lap timings are expected.