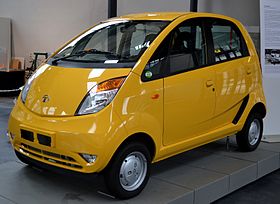 Next Tata Nano will not be the world's cheapest car
Tata Nano has been the world's cheapest car and all the hype that surrounded it before it's launch was due to it's price. Mr. Ratan Tata aim to give people 4-doors and 5-seating arrangement instead of opting for price but company insiders reveal that the car's sales has been sluggish and may soon be offered with 800cc engines instead of 624cc and will be priced around 2.5 lacs Indian Rupees.
In November this year, Tata was only able to sale 3,500 units instead of the planned target of 10,000 units a month.
The 624cc will not go out of show and the company will keep it in production, the 800cc variant will be introduced within 12 months according to company insiders who further said that the new variant will compete against the likes of Hyundai Eon and the Maruti Alto.
Tata Group Chairman, Ratan Tata said that Tata Nano, is being 'refreshed' to realize its full potential. "We were not prepared to market the car as we should have. I think that has a lot to do with the fact that momentum got lost," he told PTI in an interview.
He listed out the reasons due to which Nano, nick-named 'The people's car', could not realise its full potential as the momentum got lost in initial years due to issues like plant transfer and insufficient advertising campaign and dealership network.
Asked whether these issues are being addressed, Tata said, "It is being addressed now and I think we will succeed. It is a three-four year old product (and) we have to do something to refresh the product, which we are also doing."
Alongside the 800cc petrol engine, diesel and CNG is also being considered.