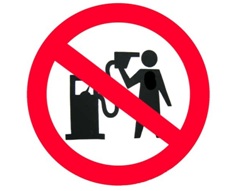 Which fuel to run your car on? Cng or petrol?
Previously, there weren't long queues at either of them but today, be it petrol or a cng station, there is a long wait to get your car filled. So we were wondering, which fuel is better to run your car on?
LPG so far isn't the answer, as government still lacks a proper policy about it and the price is also ungoverned and exorbitant.
In my personal experience, my 1000cc carburetor car gives an average of  22 KM /Kg on CNG. While on petrol it does not give more than 10 km a liter. But than, CNG will operate better on a carburetor engine and petrol will not be give a good economy, just as it would give on a new engine.
My 1000cc EFI engine cars give me an average of  28 KM/kg on CNG whereas on petrol, it gives me 17 – 18 KM /liter.
*note that these averages are without A/C and at smooth acceleration.
In comparison of cost, CNG is better , but in comparison of engine life and car maintenance point of view, Petrol is best. And in old carburetor engine, petrol average is not so good and that's why people try to run them on CNG.
But in latest EFI systems and the sort of technology in cars, petrol average is not bad so why bother running CNG at all.
As we know CNG is not available in many areas for as long as three days in a week. So CNG will not be able to survive for that long in people's car while the public transporters who charge fares on diesel prices, will stop operating as CNG is unavailable. Such high prices of petrol, cars tuned on CNG which do not perform well on Petrol, increase expenses for everyone.
So what we should focus is tuning our cars on petrol properly and driving them properly to get the best mileage as in the above video, and a case which every Toyota Surf owner would tell is that the V6 Surf gives a better mileage than the smaller size engine.
If government provide some subsidy on petrol prices and bring it down to some extent many domestic car owners will convert their cars to petrol because of the following reasons:
Non availability of CNG in 3 days a week.
Low pressure of CNG in winter.
 Queue of cars at CNG pumps.
Poor engine protection on CNG.
The government should however prepare people in advance rather stomp in their faces with crisis, one after another.