Toyota Aqua also known as Toyota Prius C, is a full hybrid Gasoline-electric 5 door subcompact hatchback. This diva was introduced by Toyota in Tokyo motor show in 2011 and started its sale in 2012. Toyota Aqua has been declared as the most successful name plate launch in past 20 years. And it has been the topper of the sales leader board for about 4 years.
The letter "C" in the name Toyota Prius C stands for city. And the word "Aqua" has been taken from Latin and it means Water. So from the name makes it quite clear that what this car is all about.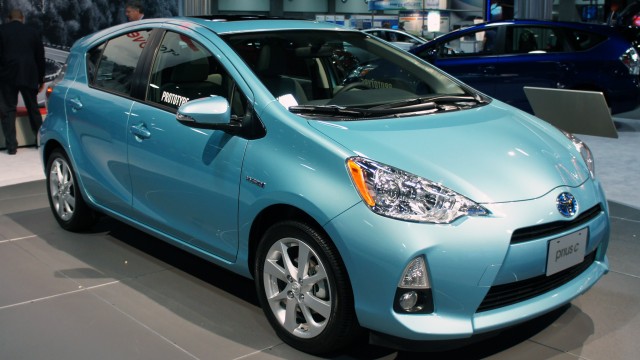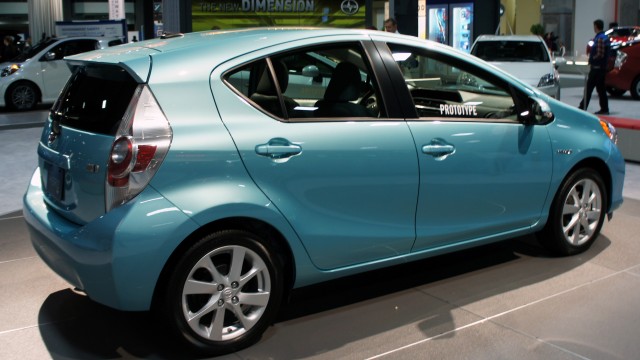 Exterior Design:
When we talk about the design, it seems that Toyota wanted to get something as spacious and comfortable as Toyota Prius and at the same time compact for the city drive like Toyota Vitz or Yaris. And they have managed to get a perfect blend of both. When we look at the Exterior design of Toyota Aqua, it is just amazing and tells us Engineers at Toyota have seriously done a very good job. The length and width of the car is 157 inches and 67 inches respectively or in simpler words, you can say that its dimensions are somewhere between Prius and Vitz. Let me clarify one thing, if you are looking for a car that has as sharp look as Toyota Yaris, then Aqua should not be your choice. But if you want a car that carries all your stuff and looks good on road as well, then Aqua would never disappoint you. The only problem that I saw in the design was the low ground clearance, which means speed breakers will hurt like hell if you are not conscious.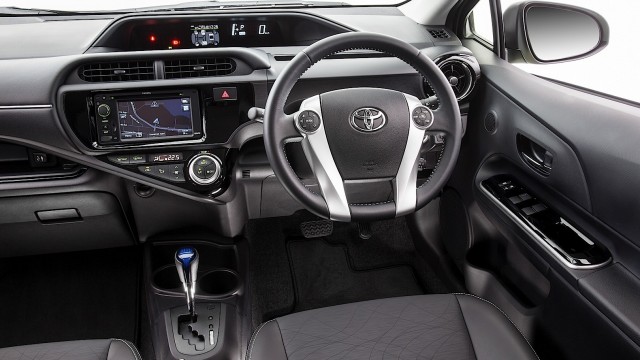 Interior Design:
Just like any other Japanese car, the interior of Toyota Aqua is just stunning. The blend of Prius and Vitz can be clearly seen in the interior. The innovative gear design just makes it more amazing and gives a signature look to car's interior. The build quality of the plastic in the interior is really up to the mark; it does not feel like cheap plastic, which in my opinion, is the case with Vitz. The car's interior comes in 2 color contrast, which just makes it more amazing. The seats of this car are really comfortable and hold the passengers quite well. The car is really spacious and can carry a lot of stuff, even with five adults sitting in it. The leg room is really nice for all passengers and the trunk size is just up to the mark. If in future models.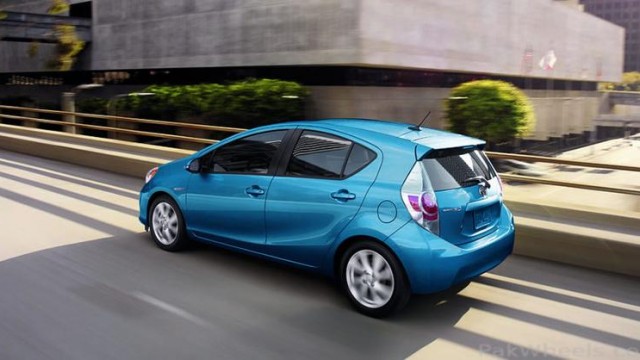 Performance:
Toyota Aqua is powered with Toyota's third generation hybrid synergy drive coupled with a 1.5-liter DOHC with four cylinders, which together can provide around 99hp. This assures a really gentle and powerful drive. Like Prius, the car is amazingly quiet and a person can hardly know if the engine is on. Even when driving, the car will give you a very peaceful drive with a good power at the same time. But if you are going to bust the paddle like a moron, you are an exceptional case. This car was made for providing a good drive in the city but even if you enter a bumpy or uncomfortable road, you will have a gentle drive; thanks to the amazing suspension employed by Toyota.
Fuel Efficiency:
Now coming towards the biggest attraction of Toyota Aqua i.e. the fuel efficiency. This diva can give you as high as 30km/ltr in city drive; thanks to the hybrid technology. Yes folks it's true. This average falls to 26 km/ltr when you use air conditioner. And it would not be wrong to say that this is the most fuel efficient car available in our country right now. This car will really cut your fuel cost and you will love that won't you?
Overall Experience:
My experience with Toyota Aqua has been really amazing. I moved from Toyota Vitz to Toyota Aqua about three months back. At first I thought that it is not a good decision, because it costed me around 16.5 lacs and I could have gone for any sedan. But after using it for around three months, I am really in love with my car. The car has amazing features like Push start, Airbags, ABS brakes, catchy speedometer, media screen etc. This car is also blessed with front heated seats. But the things I am really enjoying, are the large space and fuel efficiency. My Vitz used to give me around 14 km/ltr in city and I thought it was a gentle number but after owning Aqua I'm simply amazed by the fuel efficiency. This car gives me around 26 to 28 km/ltr easily in the city and I am just loving it, as it saves me a large amount of money. The only thing that I feel bad about this car is less ground clearance, which hurts me when I drive it accidently over a nasty speed breaker. Otherwise I would say that this is an amazing vehicle and a one-time investment, as it will save fuel worth a large amount of money. If you live in a gentle city like Lahore or Karachi, where we are blessed with these hectic traffic jams, I would say this vehicle is the best you can get in every sense.