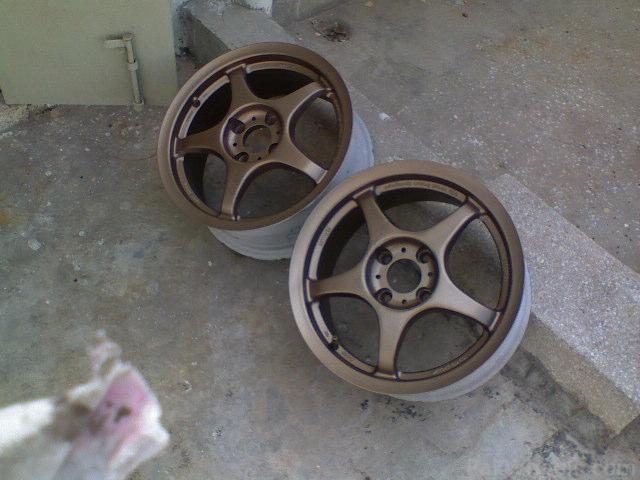 Paint your Rims yourself : D.I.Y
You will need the following items to perform the paint job on your rims;
100-200-400-800-1200-1800-2000 Grit Sand Papers
Acrylic Lacquer Paint(Choose Your Color And Shade) 0.5L Approx For 4 Rims Inside Out.
Clear Coat + Hardener, for 0.5L Paint.
Primer(Depends on surface and color chosen) .
Lint free cloth.
Bucket of water(for wet sanding)
Paint gun(Air or Airless)
Respirator Mask (That's a must for paint job)
2 -3 Liter of Good Thinner(Paint Thinner)
Good ventilated room or place.
Wasted newspaper + masking tape.
200ml and 500ml Marked beaker
and most importantly….Patience.
Color + Primer + Spray Gun + Blahhh …You Can See
Respirator Mask. Its a must thing to have, else you will be inhaling lots of harmful paint and toxic thinner…not at all good for health and lungs;
To start with cleaning rims, started sanding with 100Grit Sand Paper (Wet Sanding), immerse sand paper in water and sand, don't let it dry, if it gets dry, make it wet again.
After 100Grit sand paper it started to look like this;
100Grit Sand Paper;
After 100Grit wet sanding, clean with lint free cloth and inspect surface, scrap any peel off paint and again start with 400Grit Sand Paper. After 400Grit sand paper its smooth now;
It will get smoother as you increase your grit No., it varies from surface to surface, 400Grit is sufficient for my need as I have to apply primer before final color coat.
400Grit sand paper, remember wet sanding, no dry sanding;
Water bucket for sanding purpose;
After sanding clean the surface using lint free cloth and if possible give them a wash so none of sanding residue is left over, then clean it and dry.
Time to prepare paint.
Preparing paint and primer(Base Coat) is very important, I use ratio 1:1.5-2 for primer(1 part Primer, 1.5:2 part of thinner), it depends on your product and spray paint gun, that how it comes out. If your gun can't spray thicker viscosity enamel then you have to thin it down.
For perfect ratio and no guesses, I get marked beakers to prepare my color perfectly with no rough ideas.
Here I am preparing primer, remember, mixing ratio is very important, if you dont do it correctly, either it will come too thin or too thick.
Here I prepare my painting place, its just before my home's roof gate. Its a good ventilated place which easily allow thinner and paint toxic fumes to get away. Don't spray in your room or place near your living room. Masked place with newspapers.
I adjusted and tested spray gun of rough place first then apply on Rims. Here is how it looks after sprayed;
Perfection comes with practice, the more you spray, better you learn. Just try that it comes nicely, if you mess it, no problem, just clean the excess paint with cloth and start again. Adjust your gun and distance.
Finally, primer is applied on all four rims and kept for drying;
Primed rims are dried and now its time to remove some unevenness and sand then down to smoothing them again.
Looks like this after 400Grit sanding is done;
This is how the rims look after being sprayed;
After 1st coat, meet the 1st pair. Color and shade comes as I want it to be;
Finally the mess I have created on my stairs;
Some of you might be thinking that its finished but no, 1 -2 more Coats and Clear Coat is left which will make it look even more better.
Tips, tricks and precautions:
Always use high quality paint primer and most importantly, a good quality thinner.
Never use thinner available in bottles at local hardware stores, its pathetic in quality and can ruin your expensive paint. Always get good quality thinner from auto paint stores.
Get atleast 4 liter of thinner as its sufficient for your primer paint job.
Always use respirator mask, never paint without that.
Always try wet sanding and use proper grit depending on sanding job and surface.
Mix Base Coat(Color) In 1:3 Ratio(1 Part paint, 3 Parts of thinner). Use beaker for perfect ratio matching.
Mix clear coat, hardener and thinner in 3:1:2 (3 Part clear Coat, 1 Part Hardener, 2 Parts Of Thinner) 2 Parts of thinner can be also made with 3 parts depending on mixture you got.
Make sure you mix and stir thinner with paint/primer/clear-coat nice enough and make it a perfect mixture, else it results in fish-eyes on painting surface.
Wait 15-20min after applying first coat, and then apply 2nd coat.
Clear coat should be applied within 12-24hours max of last base coat applied.
Use gloves while Sanding/Mixing/Painting as sanding can scratch your hands badly and Paint/Primer is highly adhesive and can cause lasting contact with skin.
Test your spray gun on some cardboard with Paint/Primer mixed and ready to be applied, adjust accordingly. Spray some on it before putting on desired surface.
Have patience while painting, don't be in so much hurry. Its a time intensive task and speeding can ruin your paint job.
Air Type Gun Details and Spec:
You need 30-50psi on spray gun depending on the job. So air compressor bought should provide stable 60psi-90psi.
For priming base coat and clear coat, get a single gun having 1.3-1.4mm nozzle. If you can afford 3, get 1.2-1.3 for clear coat and 1.5-1.6 for base coat and around 1.8-2.0 for primer.
Get gravity feed spray gun as it have its own advantages over sponge type.
HVLP guns are also best and better among All. If you can afford one.
Get pressure gauges on correct location to exactly know how much Psi you are running on.