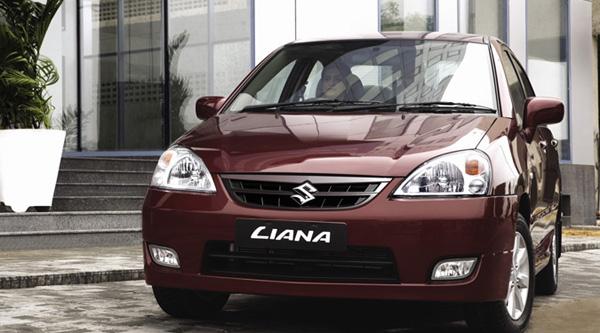 Pak Suzuki may stop producing Liana
Liana is an abbreviation for "Life In A New Age" and it isn't a popular car by any means whatsoever. Despite the fact that a used Liana can come around just as much as you'd pay for a small hatchback, Cultus. Sometimes, it is priced even lower and therefore, it has been the subject of much debate whether or not it offers the best value for money in the used car market today.
Pak Suzuki failed to introduced the successor of "Life In A New Age" or Liana, the SX4 and now, market is afloat with rumors that Pak Suzuki may finally axe the Liana. Partly because of the unavailability of parts, similar to the reason why Alto's production was stopped and partly because Liana's sales have been very slow.
The vendors who supply parts to Pak Suzuki said that the company had already warned the vendors back in November 2013 that Liana will be discontinued from January 2014. The procurement of parts for Liana has already been suspended and there isn't any schedule for parts of Liana to Pak Suzuki in the current month. It is learnt through Pak Suzuki compensating the vendors for tooling and moulds that Liana, as a brand will not exist anymore even in the future.
The sales figure acquired through Pakistan Automotive Manufacturers Association or PAMA in short show that not a single Liana was produced during July to September 2013 and in November 2013 as well whereas only 72 Lianas were produced in October and December 2013 while the sales were highly disappointing as well with five sold in July 2013, eight in August, 17 in September, 31 in October, zero in November and 26 in December.
Dawn reports that although PAMA has not supplied the data for last month's production sale of Liana as of yet but sources tell Dawn that no Liana was produced in January 2014 and only 22 Lianas were sold that month.
Despite all this, the Public Relations official of Pak Suzuki declines that Liana will not got out production nor the company has any plans to Liana's production in the future.
However, sources also tell Dawn that Pak Suzuki planning to unveil Wagon-R in Pakistan within 2014 as it has begun taking parts for it from selected vendors meanwhile, it is also pushing government to allow import of parts from India to introduce new vehicles in Pakistan.