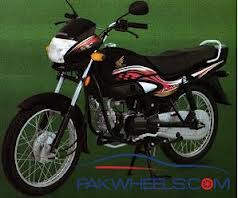 Pakistan likely to join top 5 motorcycle producing and exporting countries
At the launch of the new model 'Pridor', which is reminiscent of the old Honda H100-S which was discontinued quite a long while ago, T Oyama, senior managing director of Honda Motor Company Japan said that Pakistan will be amongst the top five countries producing and exporting high quality motorcycles in the next few years.
For Sale on Pakwheels: Used Motorcycle
Honda Atlas, after investing $ 35 million here this year, expanded the capacity to 750,000 units an year and now plans to take the capacity to 1 million in a couple of years by investing $ 50 million. The plan which is currently under study with Atlas Honda.
Atlas Honda is exploring huge export potential available in the third world countries like Sri Lanka, Bangladesh, Afghanistan and some African countries as well and are bringing the stakeholder, such as mechanics, dealers, etc of those markets over here to Atlas Honda's plant in Shaikhupura and Karach to show them their manufacturing facilities.
T Oyama speaking further at the event said that the relationship between Atlas and Honda Motor Co. Japan is the oldest in the whole world.
Honda Pridor which is also called CD100 is a new 100 cc bike launched in Pakistan with technology greater than Euro-II emissions as CEO of Atlas Honda says.
For pictures and information of Pridor, visit this thread here.