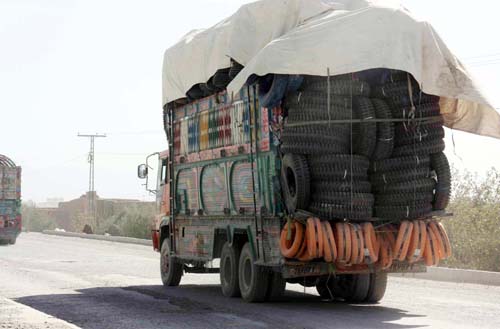 Tyre smuggling is one of the many dilemmas of the Pakistani auto industry. The illegal trade of tyres is blowing up in the country, causing billions of losses to the national treasury. Industry stakeholders have claimed that tyre smuggling is costing more than Rs. 40 billion revenue loss.
Here's the math: there's an annual demand for approximately 14 million tyres. Locally produced tyres make 15% of that demand. 35% is met through legal tyre imports. And the remaining 50% goes to the smuggled tyre. That's a market of 7 million smuggled tyres; a major chunk of that is of Indian origin. 
The Rise and Fall of Tyre Smuggling
According to the stakeholders, the COVID-19 pandemic helped suppress tyre smuggling. Tyres were being smuggled via Torkham, Chaman, and Taftan borders. When COVID-19 hit Pakistan, over 90% of the borders were closed. The only way for smuggling tyres was through the border check posts.
As the COVID-19 border restrictions have been lifted, the tyre smuggling business has been on the rise since August. The illegal trade is affecting the competitiveness of the industry and the revenue of the national exchequer.
What Can Be Done?
The Federal Board of Revenue has strict measures at the customs level to curb any smuggling activities. But the industry stakeholders say that's not enough; a lot more effort is required to take down the illegal tyre smuggling business.
General Tyres Chief Executive Officer Hussain Kuli Khan has suggested keeping an eye on the stock market to see if any sellers are dealing in smuggled goods. Anybody found guilty of smuggling will have their illegally imported items seized.
CEO General Tyres also has doubts about the goods imported via Afghan Transit Trade (ATT). He says the imported goods are either offloaded in Karachi or returned from the Afghan border via smuggling. He suggested the government reevaluate the ATT import data to see if the number of imported tyres matches the number of Afghanistan vehicles.
The local tyre industry contributes over Rs 3.2 billion annually to the national exchequer and provides employment opportunities. But the smugglers are abusing the system and causing billion of losses.