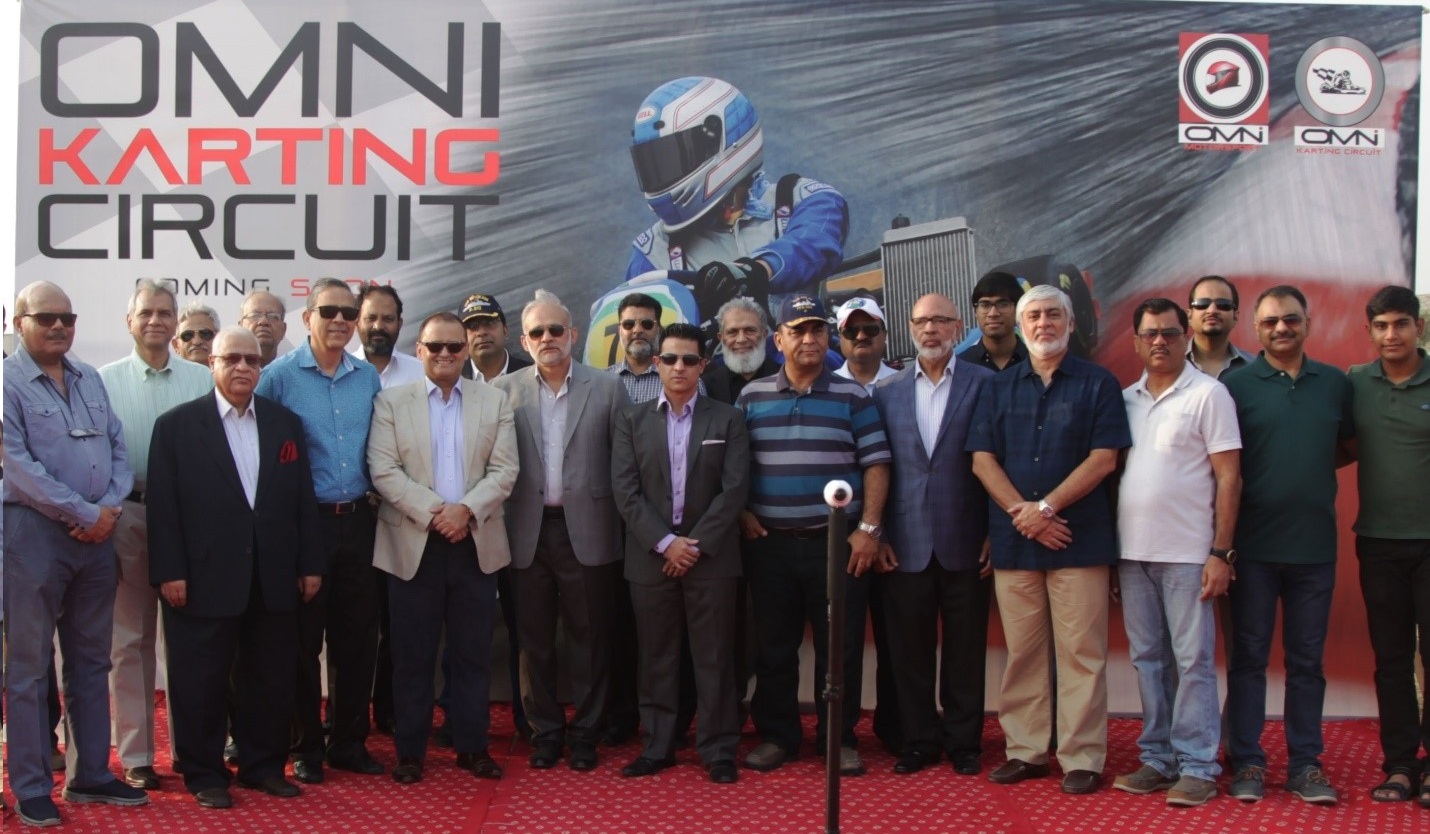 Pakistan to Receive its First World-class Race Track
The groundbreaking ceremony of the Omni Karting Circuit was held at the Airmen Golf Club & Recreation Park at Korangi Creek. The ribbon cutting and groundbreaking was performed by the Chief Guest, Air Officer Commanding Southern Air Command Air Vice Marshal Salman Ahsan Bokhari along with Syed Ovais Naqvi, CEO & Managing Partner of Omni Motorsport Pvt. Ltd. The ceremony was also attended by various other senior officers of the PAF including: Base Commander Korangi Creek Air Commodore Ibrahim Asad, Director PAF Museum Air Commode Usman Ghani, President of the Airmen Golf Club Group Captain Tahir Javed & Secretary of the Airmen Golf Club Wing Commander Naveed Siddiqui and the Directors of Omni Motorsport Pvt. Ltd.
Omni Motorsport specializes in recreational and professional motorsport activities and will be developing pioneering international standard motorsport facilities and karting circuits all across Pakistan. Starting by now making a 3 million dollar investment to construct, develop and establish the Omni Karting Circuit in Karachi, Pakistan.  They intend to expand and scale the business to other major metropolitan cities of Pakistan as well, by opening similar facilities across the country and then subsequently beyond Pakistan to the international market by opening similar facilities in regional countries.
This pioneering karting complex and multi-disciplinary motorsport facility will include a multi-layout 1.5 km karting track built to CIK Grade A international standards. The track will also incorporate a 1/8 mile drag strip and be able to allow one road car at a time to be driven on it for autocross and time trials.  It will be built on a 12 acre waterfront site located at the PAF Base Korangi Creek adjacent to the Airmen Golf Course & Recreation Park.  Ovais commented:
This is a prime and picturesque waterfront property in a prestigious, easily accessible and extremely safe and secure location in the heart of Karachi on the pristine waters of the Arabian Sea with breathtaking views of the ocean.
Ovais informed that the facility will be fully equipped with all amenities and features of a state of the art karting circuit with flood lights, safety barriers and fencing.  The Omni Karting Circuit will house a fleet of 30 karts capable of top speeds of 170 kph along with electronic kart timing equipment, F1 style start-finish lights, a kart control system, full racing gear, LCD screens and a giant outdoor LED screen.  There will be a covered pits complex with 30 pit garages, a driver/member lounge, race control center and media center and a briefing room.  There will also be a maintenance building consisting of a garage/workshop and service and refueling area. The complex will have a main club house building that will house the reception, the executive offices, changing rooms and lockers, toilets and a seminar/conference center and a merchandise store. The Omni Karting Circuit will include a trackside restaurant/café & outdoor terrace, a roof top viewing deck and grandstands. The facility will have an open landscaped multi-purpose area along with a park. There will be parking for 200 cars. It will house a state of the art F1 simulator.