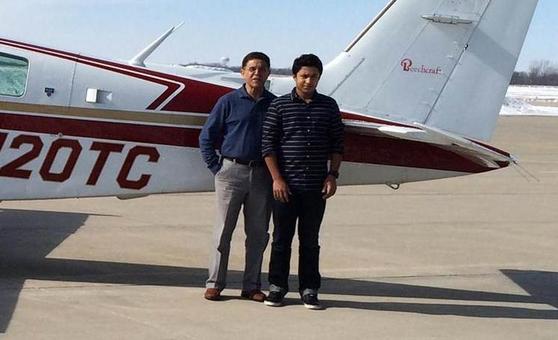 Pakistani-American father and son duo crashes while attempting world record run
It seems that this year is the worst for the aviation industry, and just as we sat down to type this tragedy, it was being reported in the news that an Air Algerie aircraft carrying 116 people on-board has gone out of contact.
Let's talk about the enthusiastic father and son duo who crashed on their way to California from Hawaii on Wednesday. Their trip was not for themselves, but it was a world record run to go around the world within 30 days and this was the last leg of their entire trip. The trip purpose? To raise money for the education of under-privileged children in Pakistan.
Their journey began on 19th of July in Plainfield, Indi­a­na, US, from where they flew to Canada, Iceland, England, Greece, Egypt, UAE and to Pakistan where they were given a warm welcome at the Karachi Airport.

Around the world in 30 days: Captain Haris… by dawn-news
Babar Suleman was the younger brother of Retired Chief of Air Staff Air Marshall Rao Qamar Suleman, and their motivation for the trip was to raise $ One Million for the The Citizen School Foundation.
The US Coast Guards had recovered Haris Suleman's body floating on the surface of the sea while his father's body and the crash site have yet to be located.