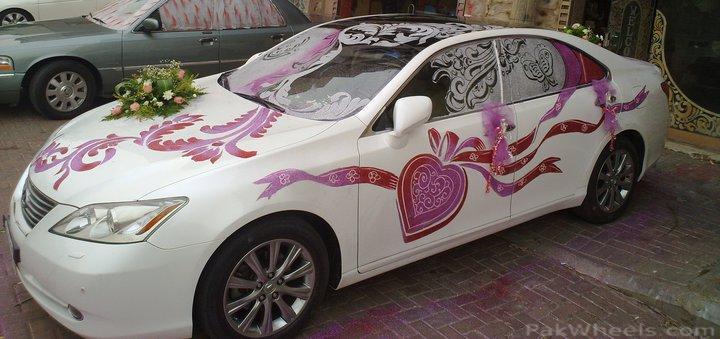 We don't like stereotyping but the pure nation of this funny little country Pakistan has some dreams, you can list them in an order: Masters, job, job progressing towards a company Corolla or Civic, once Corolla is achieved then Shaadi, and then kids. On the face of it, us Pakistanis appear selfish; we throw garbage on the road, throw dirty pampers through the apartment window and SPLASH! On your car, or on your head, depending how bad a day you're having. But we're actually quite selfless as well, unbeknownst to the fact that we're quite living a life of lies.
Some people skip the Corolla/Civic part and get hooked up soon enough because, dirty pants are aplenty in the washer and we go spend millions on wedding, feeding the hungry guests who spill more than they consume, clothes worth at least 0.2-10 million rupees are worn only once, there's so much excess that the post-WW2 American industrial excess looks pitiful compared to it. It is a curious point when we publicly frown upon dowry and yet we utilize the dowry sum towards the excess that has become the Pakistani shaadi but that's another debate.
The Government, unable to enforce peace and bring well-being to the people is found enforcing shaadi events and when should the shopkeeper shut down his/her shop. But I find the most hilarious hypocrisy in people dancing in Shaadi events, it is alright for the girls and guys to dance in front of known and unknown people in wedding celebrations but professional dancers are bad.
Trust, confidence and a little bit of spice is the foremost foundation of any successful marriage, would you not agree? Then why do we feel the need to use a car which we cannot afford as of yet; we're basically bringing the joy and blessing of our lives on a lie with four wheels and a few seats. It serves as mere transportation from the venue and to the home. So why not use your actual car that you own? Are you ashamed to show up in the beater Suzuki or the fart cannon equipped dolphin Civic you own?
I think it is dishonest.
And in the gaudy affairs, at least we, the enthusiasts, can take pride in our cars and use them as the 'Rukhsati ki gaari'. Its honest. And honesty, no matter how much sour, will have the unique and ever-lasting impact on not just the marriage but it may as well become a trend. Yeah, we see dulha (Groom) and dulhans (Bride) arriving in Qingqis, rikshaws and beach buggies to make an 'entrance', so if you're fine with arriving in a qingqi as part of fashion statement, why not use your own car? Which you'll be using to move around countless 'dawats' throughout the next month. And might as well become the next trend as the people have gone absolutely haywire just to make their wedding stand out!
So while everyone knows what you drive in real, and the best most of us would do is get an econo-box like Civic or Corolla so in stead, how about using that very car which your bride will be using for the rest of her life?