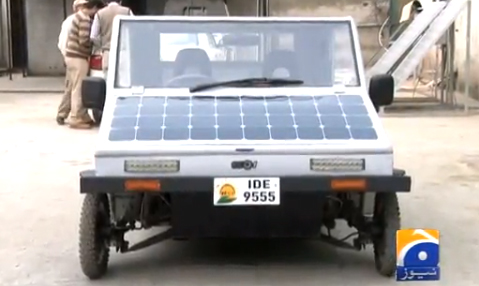 I'm not getting a free meal at all, they cost me each time, sometimes with heavy budget. If you are not getting lunch, dinner, even breakfast free of cost or without spending a single penny, why would you miss a chance to ride for free? Actually that would be more than Bingo if my car could run continuously without spending a single rupee on fuel. I'm sure all of you would love to have a vehicle like this at home? Perhaps, Solar panels, which seem expensive and involves a lot of maintenance, may get you closer to the final answer.
Electricity in Pakistan and energy crisis has made our lives miserable. Home solar energy systems are being introduced whereas; cars can also run on solar panels because people are trying to find ingenious solutions to energy crisis. Recently, Mr. Aslam Azad has designed the solar panel car which is manufactured by Mr. Ahmad Aslam in the capital of Pakistan.
This successful solar panel car design totally ran on solar energy, but this is just a beginning with it, as initial version is successful and under testing.
A decade ago, when CNG was introduced in Pakistan millions of cars equipped with CNG/Gas kits just because of one reason and that was to save money as petrol prices were starting to reach at high rates and CNG offered better mileage.  We became one of the top listed CNG consumers in the world. Ten years ago, our Govt. was completely in favor of CNG and encouraged people to use it as a cheap alternative and now scenario has been changed, just like overhauling a car, they can't fulfill CNG's demand because of short fall and managing supply across the country.
A  Pakistani with single handed efforts, once again standing to reshape the scenario that what happened with our nation's decade ago, as someone has to strike back and sort out the problems. Mr. Aslam Azad a Pakistani Business man spent some $500,000 from his pocket to resolve the problem and built a solar powered car.
Five years back, when Aslam Azad made this mission the aim was clear to fight against CNG crisis and give a proper cheap way to Pakistanis as an alternative to petrol. This car is powered by kinetic and solar energy and its engine become a generator when the car is cruising. A day before charging this car, it can run for 50 miles while, this ratio can be increased five time more with replacement of current battery on which it is running.

Solar Car-20 March 2014 by GeoNews
This solar panel car has another amazing feature that you can also charge it with direct sources of electricity. Mr. Aslam Azad is confident that the government will issue him a license of manufacturing these solar panel cars. So he can truly play a role in the relief of angry and frustrated Pakistanis.
He's pretty sure this idea will be succeeded without any doubt. We really feel proud of people like Aslam Azad who are doing everything in their power and imagination for the benefit of people of Pakistan.