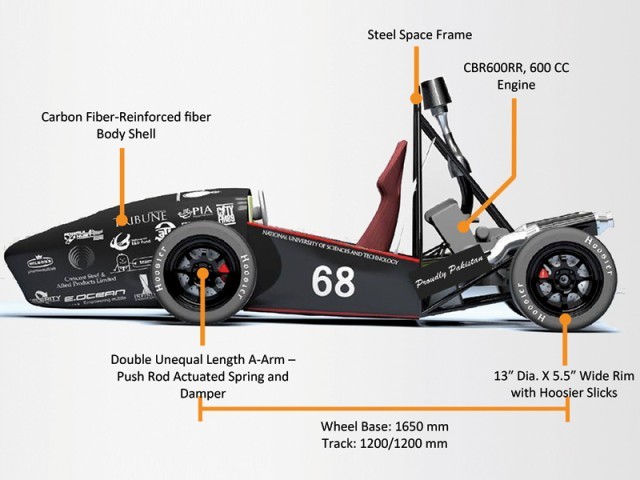 Pakistani Students Design a Car for Formula Student Competition
As they say, everybody is born for a purpose. We can invent, build, manage, produce whatever we want to. All we need is to look forward, look straight ahead to our aims and bring prosperity by contributing from a grass-root level.
Engineering students from Karachi have shown their true capabilities and have proven to be role models for people all over Pakistan. A team of students from NUST have unveiled a race-car they manufactured to participate in the Formula Student competition in the U.K. This is the world's most famous student motorsport competition where students from around the globe bring in their projects to compete with one another. The competition gives students a challenge to build and design a single seat race-car in a period of one year. The competition is also a platform for students wish to pursue careers in the global automotive industry.
Shah Talha Sohail, a team member told The Express Tribune, "Last time, I feel we weren't as prepared but now I know we're more experienced and we have a good car." 
30 students worked tirelessly on this project for a little under a year. It took a total of six months to design the car and another three months to manufacture it. The team was dedicated to making this happen and their love and passion for engineering and motorsport paved way to this achievement. Pakistan is proud of them!
Out of a total of 178 entries for this year, 114 have been shortlisted including the team from NUST. The competition is tough and all aspects of the entered cars will be considered when announcing a winner. We congratulate Team NUST and wish them well for the competition.