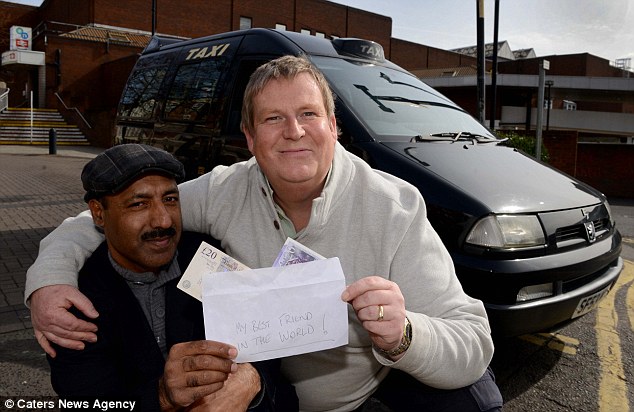 Pakistani Taxi Driver Returns £10,000 Cash A Passenger Left In His Cab
More often than not we have heard people calling Muslims, particularly Pakistanis, terrorists, dishonest and what not. They label us for the things committed by a bunch of lunatics and do not look at the bigger picture. Despite all those false accusations and derogatory labels, we prove them wrong because the values our culture has embedded in our lives are far more stronger than a few name callings can shatter.
Here's a story about a UK based 55 year old Pakistani taxi driver who proved the Westerners wrong once again. Mohammad Nisar was driving Adrian Quinn to Walsall train station. Upon arriving the destination Quinn got out of the cab in haste and left his rucksack full of cash behind. Quinn's rucksack had  £10,000, which he had recently withdrawn. After realizing that he had left the money in the back of the cab, Quinn got worried and sick. The money meant a lot to Quinn, who is a small time sole trader and only got this money in inheritance following the death of his mother. Losing the money could mean the end of his business. He thought the money was gone and didn't know what to do. In panic, Quinn hailed another cab and instructed the cabby to take him to the taxi stand, hoping to get his money back.
Lucky for Quinn, the cab he left his rucksack in belonged to an honest Pakistani, who was waiting for Quinn with the bag in his passenger seat. Upon finding the cabby with his bag, Quinn was surprised and emotional at the same time. He gave a cash reward to Nisar in an envelope marked: "To my best friend in the world" and even invited Nisar to his home for dinner.
Muhammad Nisar, who is a veteran taxi driver, mentioned that it is not the first time he has found things in the back of his car. In his line of business, it is pretty normal for passengers to forget things and packages in the cab. He once found a wallet with £150 in it and drove back to the man's house who left it to return the wallet.
Nisar urges other taxi drivers to do the same if they find any thing because according to him: "honesty is the best policy". He said, he would have gone to the police if no one had have come for the bag after 24 hours.
Nisar has proved that by being honest and truthful we can break the stereotypes created against us. Do you know of any other inspiring stories like this? Tell us in the comments.
via Mail Online