We at PakWheels are committed to provide our users best automotive-related services and solutions possible. Among the array of our online services, one is our Car Loan Calculator. The purpose of the calculator is to find you the best deal for the vehicle you are looking for. The point of this post is to introduce briefly our car loan calculator to our user and elaborate how it can help you in getting the car of your dreams. Our Car Finance section is one of the most visited services page on our site, most of people are now trending towards HBL Car Loan
Click here to go to PakWheels Car Loan Calculator.
PakWheels has joined hands with 11 national banks to provide you the best deal possible for the car you are interested. The banks are:
Bank Alfalah
MCB
HBL
UBL
Dubai Islamic Bank
Bank of Punjab
Askari Bank
NIB Bank
Burj Bank
Soneri Bank
Faysal Bank
When you open the calculator, you can choose if you want to check the rates for a used or a new car. Let's select Used Cars first. The calculator will ask you for few details like Price, Model Year, Time Period or tenure, and Down payment. You don't need to enter make or model for used car calculations.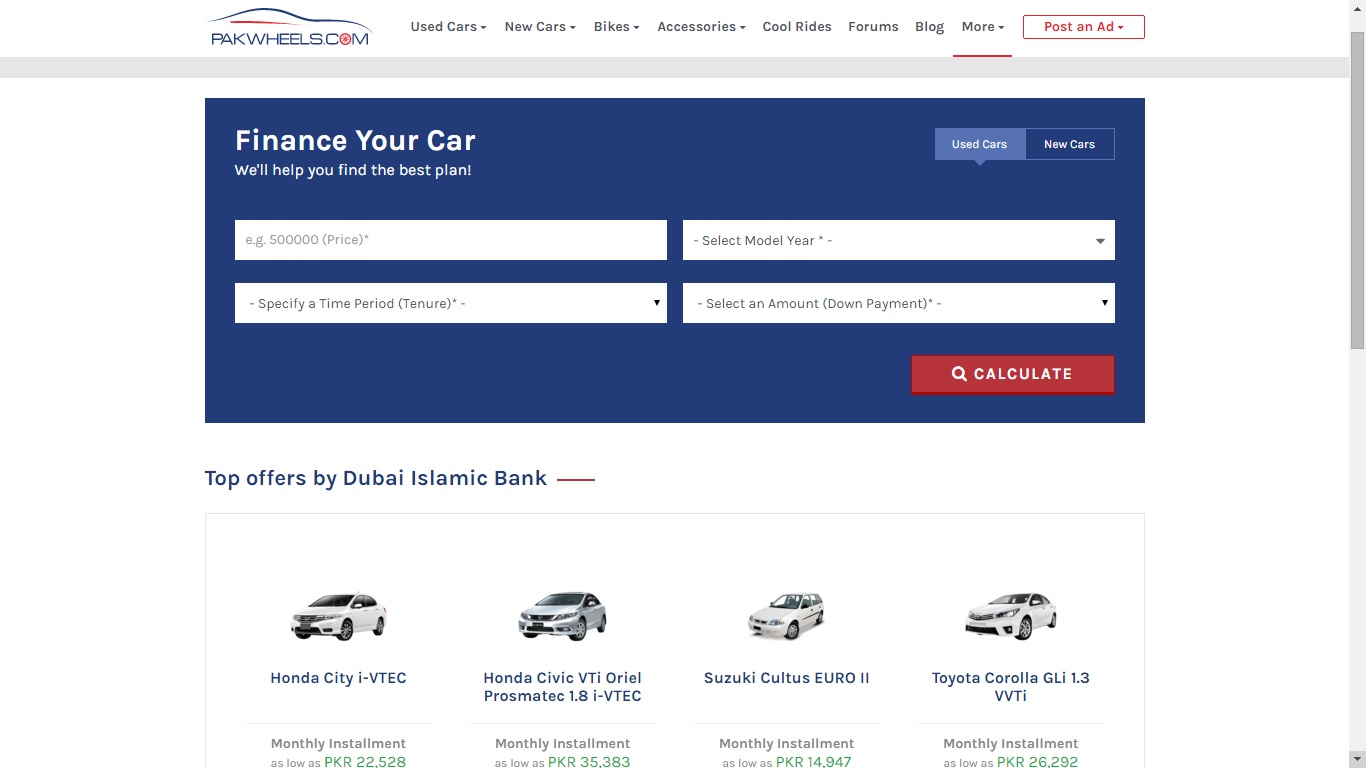 As a sample, let's put PKR 1200000, a 2012 vehicle, for three years and down payment of 20% of total price. When you click 'Calculate', we will provide you with the details of the banks who are going to cater your needs along with the basic info like Processing Fee, Initial Deposit, and Monthly Installment. From there you can apply for the Car loan by entering your contact details.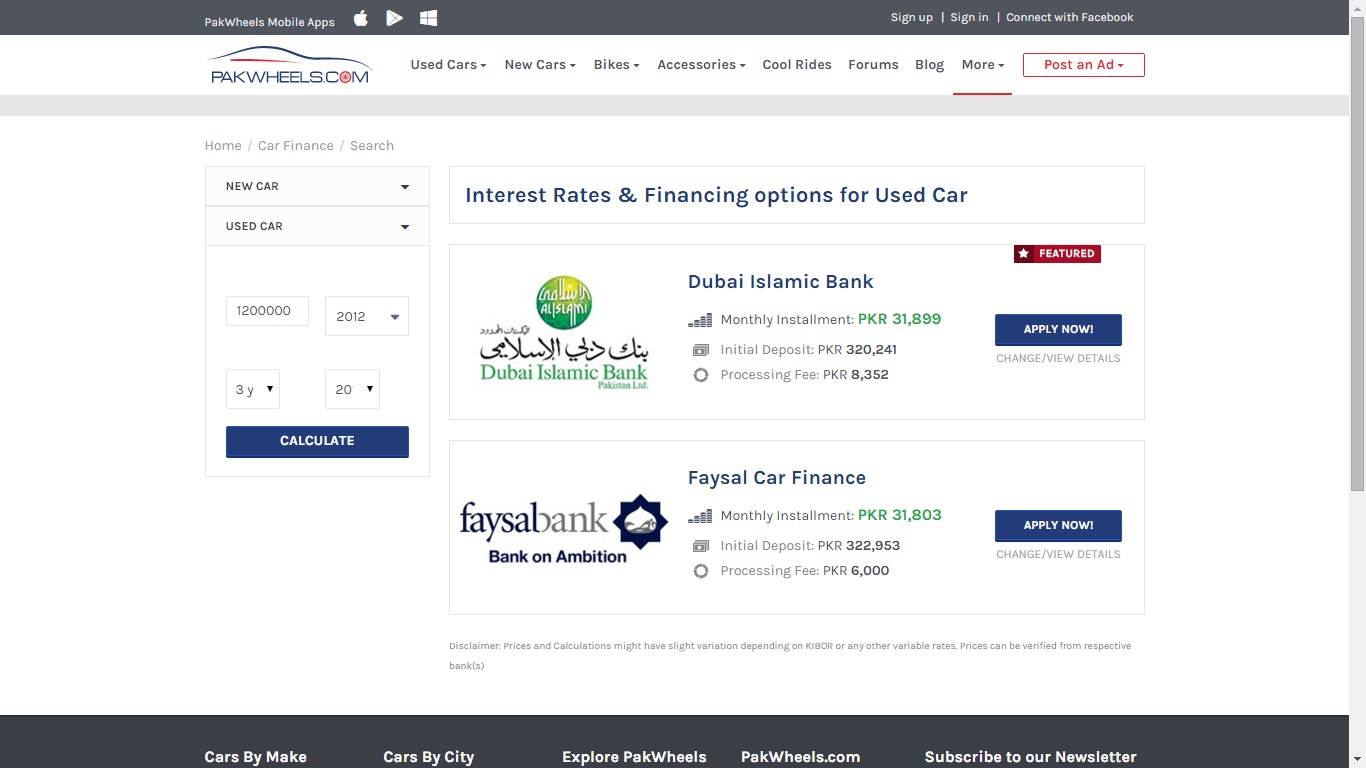 And if you have selected New Car, the calculator will ask you for the car make, model, and version along with the tenure and down payment. Let's check the loan details for Suzuki Swift 1.3DLX Automatic for the tenure of 5 years and down payment of 30%. And when you click Calculate, you get a list of banks for Car Loan basic details like processing fee, initial deposit and monthly installment.
If you want a particular bank, you will find a CHANGE/VIEW DETAILS link under Apply Now button. Click on it and it will give you a flexible slider to select the best possible deal.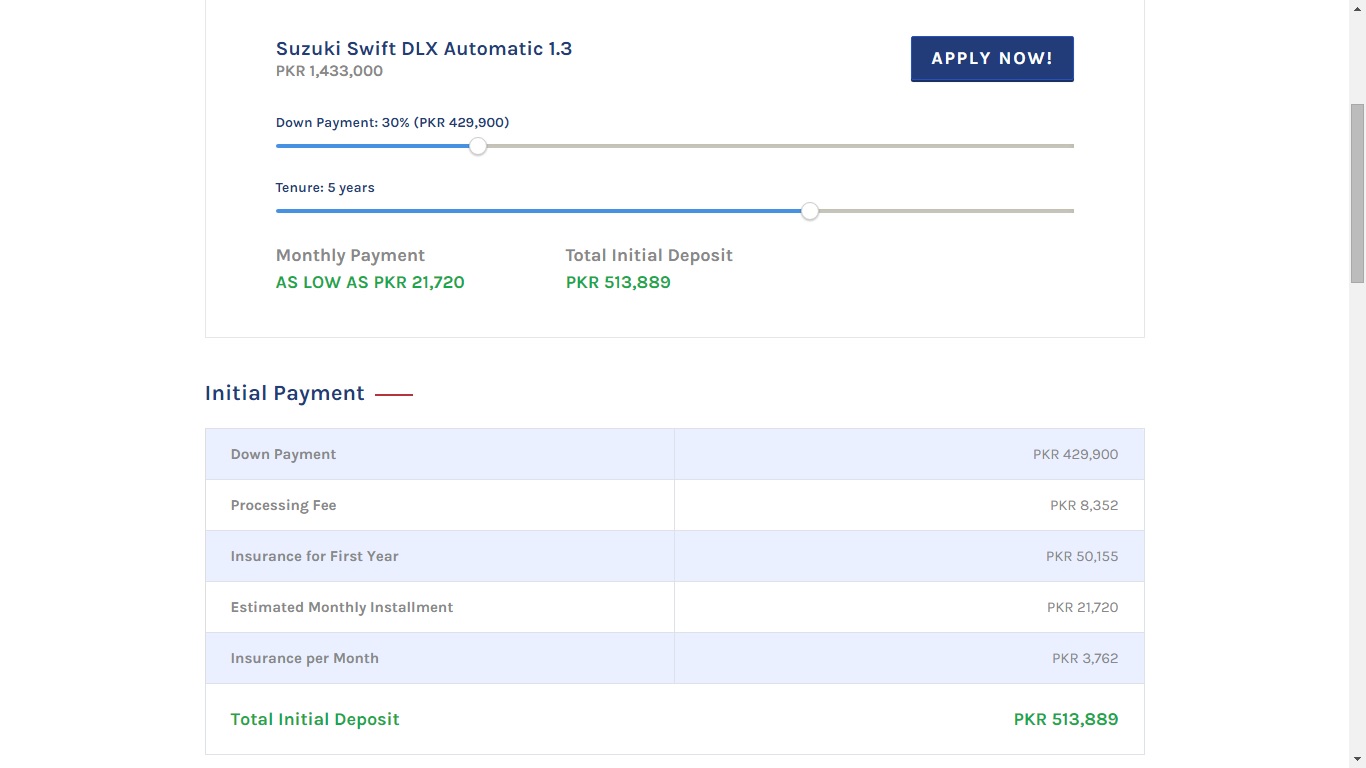 Car Finance is just one of the many services we offer to our users on daily basis. We are determined to bring you as many automotive solutions as possible.
Think Wheels, Think PakWheels.