It has been said over and over again how Pakistani auto industry has improved greatly in last year and this year. And considering the growth rate and potential of our market, it isn't strange that European carmakers like Fiat, Volkswagen and Renault are interested in setting up their businesses here. In the fiscal year of 2014-15, the total number of cars sold was 151,134 units. For the first five months of the same year, the numbers were as follows: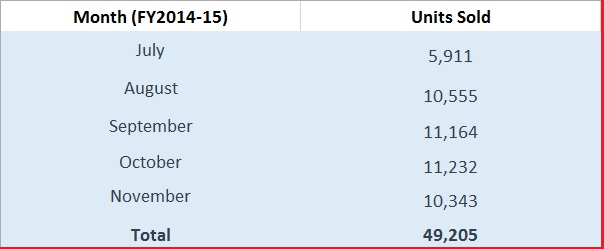 And for FY2015-16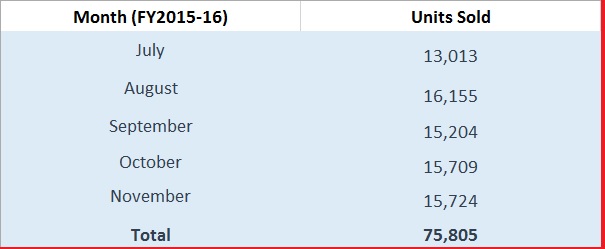 That is a whopping increase of 54% in the sales of cars nationwide.
Also Read: Nissan And Renault Discussed Plans To Launch New Cars In Pakistan
In FY2014-15 (July to Nov) number of bikes sold was 292,895 units and in FY2015-16 (July to Nov) the number is 373,536. That is an increase of more than 27%. Keep in mind figures of Ravi and Hero bikes are awaited for the month of November 2015. Adding those in the total of is 373,536 units will take the percentage further higher. You can read about Atlas Honda investing USD 100 million to increase its production here.
Toyota Corolla as always has been the king of sales. 16,847 units of Corolla were sold in FY2014-15 (July to Nov). The number jumped to 23,384 unit this year. That is an increase of 38%. Months through August to November had similar sales number. However in July 2014, only 673 units whereas the number jumped to 3,868 in the July of 2015. Considering this 11th generation Corolla was launched in the July of 2014, the low sales in July 2014 can be attributed to that.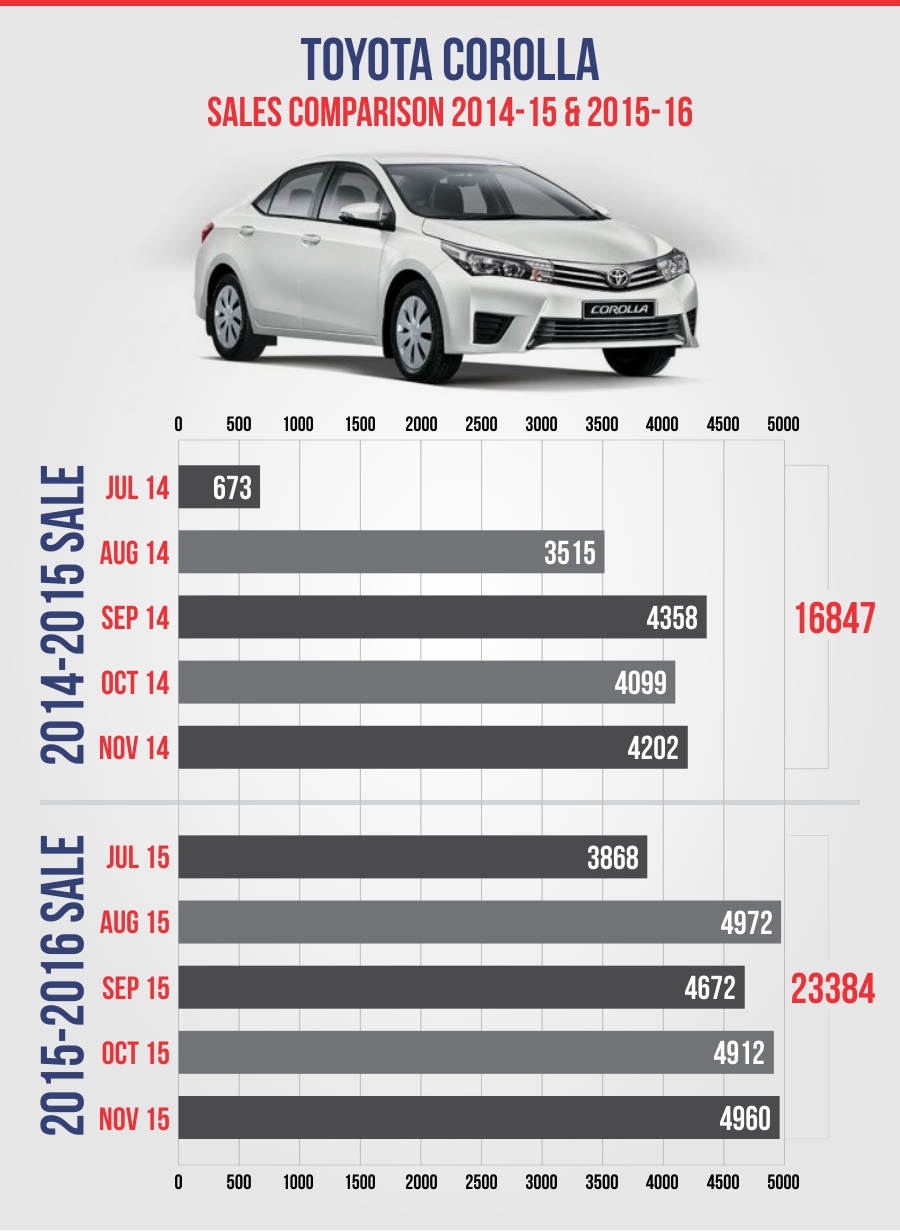 As mentioned in the graph above, in FY2015-16 (July to Nov) the total number of cars sold is 75,805. And the number of Corollas sold in these five months is 23,384. That is the 30% of total sales of all cars. That is an incredible feat if we are honest. One quite evident reason is the lack of proper competition. Honda Civic is Corollas direct competitor, but it has never been sold in enough numbers to be a threat to Corolla.
Also Read: Pakistan Auto Policy Has Started A Tug Of War Between The Japanese And The Europeans
Since Honda Atlas is not releasing the number of their Civic and City separately, we only have figures for their consolidated sales. 7,888 units of Civic and City were sold in FY2014-15 (July to Nov) whereas 9,582 units have been sold in the same five months of this year. Considering new Civic is on the horizon, it is understandable that the sales of current 9th generation Civic has been so little that Honda Atlas is not bothering to issues individual sales numbers. Honda City, however, has been selling like hotcakes. Even though new City has been launched internationally for a couple of years now, Honda Atlas decided not to launch it locally.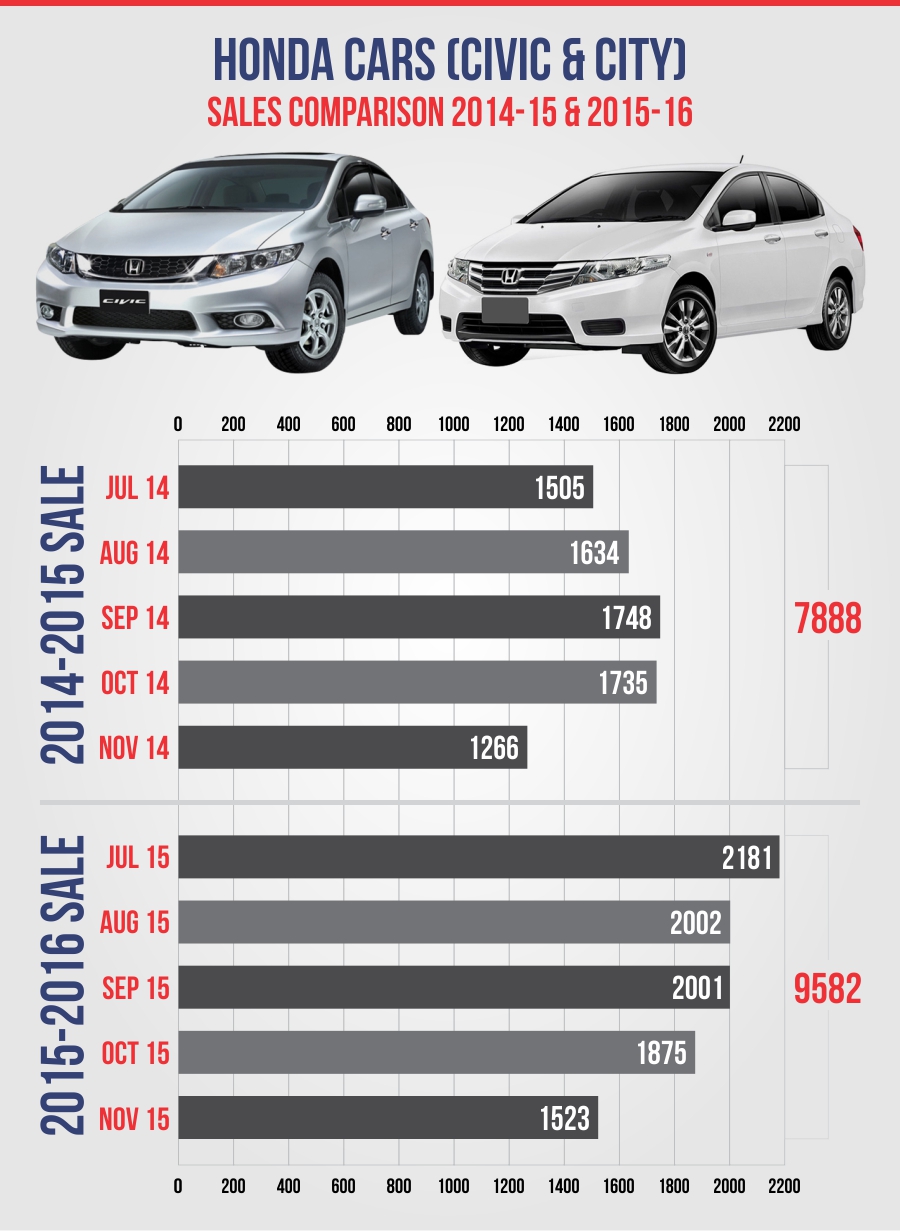 Pak Suzuki has been doing great lately, thanks to the Punjab Green Taxi Scheme. The total number of Ravi and Bolan sold in first five months of 2014-15 and 2015-16 is as follows.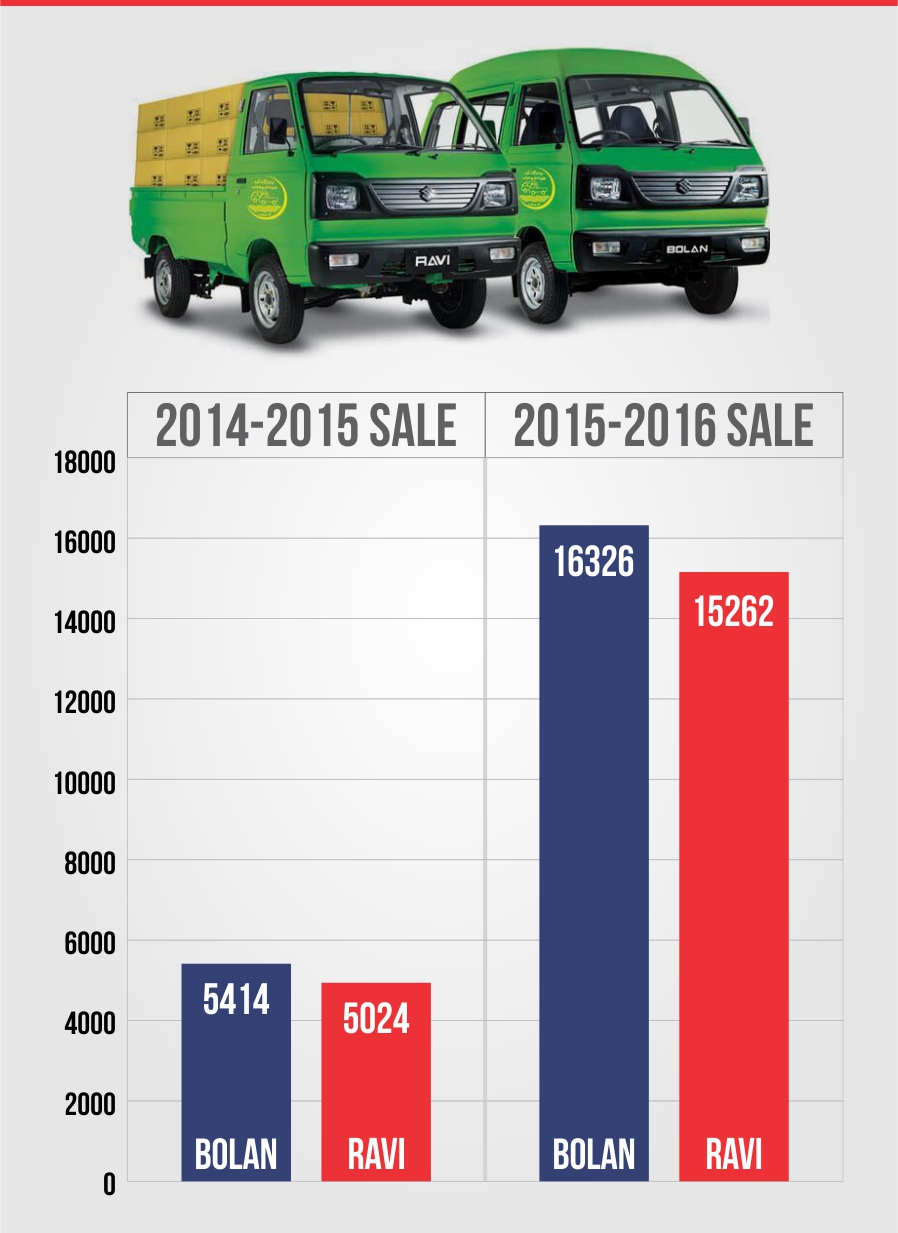 Sales of cars between 1000 and 800 cc have increased the most among cars. Cars assembling locally in this section are Suzuki Mehran and Suzuki Bolan. 16,018 units of both cars were sold in Jul-Nov'14 whereas 31,473 units have been sold in FY2014-15 (Jul-Nov). That is an increase of incredible 96%. And the sole reason for this jump is the rise in the sales of Bolan due to the taxi scheme.
RELATED: Pak Suzuki Will Be Replacing Its Suzuki Cultus With The All New Celerio
Although Pak Suzuki is planning to bring a replacement for their might Cultus, the sales of Cultus are stilling going strong. 6,273 units of Cultus were sold in Jul-Nov'15 compared to 5,425 to of Jul-Nov'14. Sales of WagonR have also doubled in the same five months of FY2015-16 compared to same months of FY2014-15.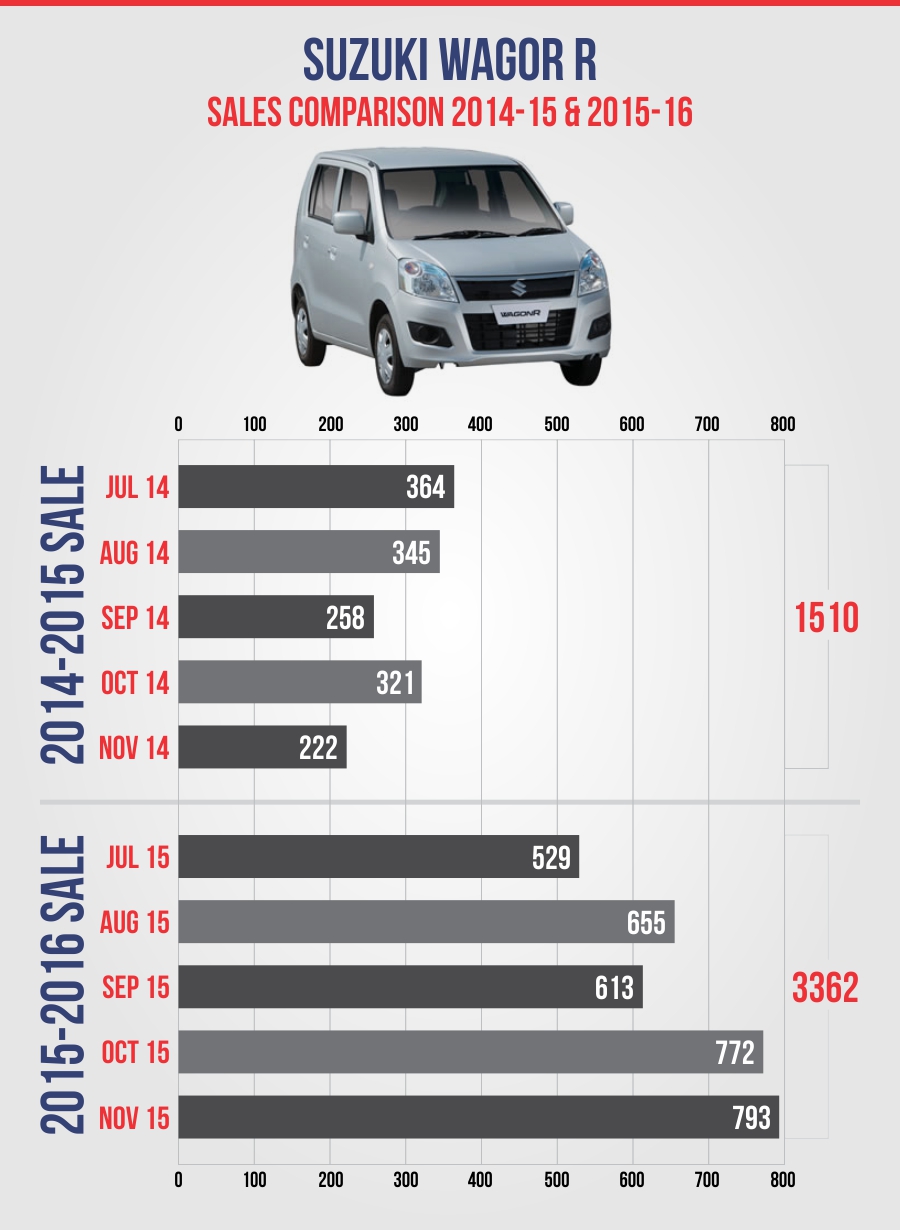 The most percentage increase in the sales of any segment is in the sales of pick-ups (Suzuki Ravi, Toyota Hilux, Hyundai Shehzore, Master). In Jul-Nov'14, 6,632 units of pick-ups were sold. Whereas 17,384 units have been sold in the current fiscal year (Jul-Nov). That is an increase of staggering 162%.
Also Read: Pak Suzuki…It Is Time To Bid Farewell To Mehran
The only segment where this fiscal year has seen fewer sales compared to last year in the month of July and November is Jeep (4×4). Currently, PAMA has put only two vehicles, Toyota Fortuner and Sigma Defender (Land Rover Defender), in this section. FY2014-15 (July to Nov) sales of both vehicles were 502 units whereas it was 381 units this year July to November.
Considering how the market is booming, and how other international players are looking at Pakistan, we hope there is more good news to come.