Atlas Honda US$ 100 Million Investment Doesn't Mean New Exciting Honda Bikes For Pakistan
Recently Atlas Honda, Pakistan's largest motorcycle manufacturer, announced that it is going to invest US$100 million to increase the production capability of their plant at Sheikhupura City. If you think $100 million is a lot, do keep in mind Atlas invested a whopping US$ 200 million just a couple of years ago. Atlas Honda is a joint venture of Honda Motor Company and Atlas Group.
The company's Board of Directors held a meeting on 30th of October and approved the expansion plan that will take three years to complete. Currently, Atlas Honda plant is churning out more than 600,000 motorbikes (all sorts of models included) a year. The plan is to double the production, to 1.2 million units in three years. Atlas Honda is expecting to see the fruit of their investment by the fourth quarter of 2016. The investment will generate nearly 2000 job directly, and 5000 jobs at Atlas Honda's partners and parts suppliers/makers.
Atlas Honda Limited was established in 1963 and has two production plants as of right now. One plant is located in Karachi, and the second one is in Sheikhupura near Lahore. After the plant expansion, the total motorbike production of Honda will increase to more than 1.3 million units.
And it is not like AH (Atlas Honda) is coming with all of the cash. The amount of US$ 100 million is being divided between three parties: AH will be investing 50% of the total amount, their group partners will invest US$ 30 million, and AH's parts suppliers will invest rest of the $20 million. One might think, why are the parts makers investing such big amount, but at the end of the day, they will too benefit from increased bike production and sales just as much as any other involved party. Investment by parts suppliers will be used to expand their production as well.
CEO of Atlas Honda at the announcement said,
"Given an improved outlook for the economy, the company foresees the demand of motorcycles to rise steadily. With a youthful population and fast changing customer sentiments, the company is excited about the growth opportunities and intends to further expand its model lineup. With a continued focus on quality, technology and localization, the company aims to deliver even greater value."
Well, the part about Pakistan having youthful population is true. Pakistan's median age is just 23.2 years. That indeed is young, and estimated 37% of Pakistani population live in urban areas. So Atlas Honda is justified to invest more in their company. There is still a lot of potential for growth. But what is not good is the monopoly of one company. There are no doubt other bike makers in Pakistan, but let's be honest, there isn't any that can actually challenge Atlas Honda. There's Pak Suzuki, but I don't see them being a true competitor. In FY 2013-14, Pak Suzuki sold 24,356 units, and that includes all of their locally available bikes (GS150, GD110, GD110S, Raider and Sprinter ECO). And in the same fiscal year of 2013-14, Ravi sold 22,425 (Ravi-Piaggio produced 20,406 units of Storm 125) units. If a much smaller bike maker like Ravi can almost go neck and neck with a giant like Pak Suzuki, what are the chances Suzuki can beat a behemoth like Atlas Honda.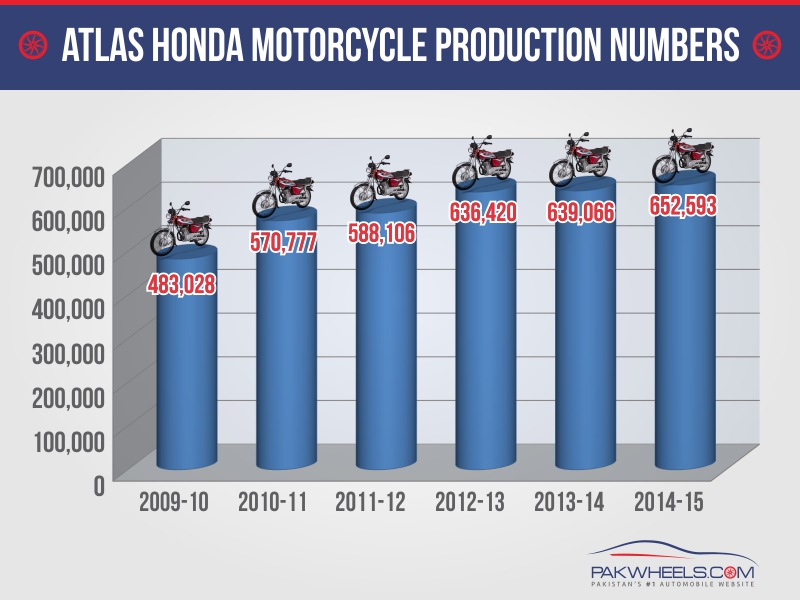 Atlas Honda, back in 2013, announced they are going to invest $200 million in revamping their product line of motorcycles, and if we are being honest, I don't think we saw any kind of 'revamping'. We still have the same old Honda CG125 that was made in 1976, and same old CD70.  There are bikes like Dream and Deluxe, but to be honest, they don't look like they are worth US$ 200 million. At that time, Yamaha Japan was getting ready to set up their operations here in Pakistan. They had divorced themselves from Dawood Yamaha Limited (DYL), and were looking to go solo. Maybe 'getting ready' is not the right word, because they had been trying to do that for five years but couldn't set up their shop until Finance Minister Ishaq Darr stepped in.
This move freaked Atlas Honda out and they sent a letter to Engineering and Development Board declaring their love for technology and new bikes and how they are aching to launch the bottom kicking latest motorbikes.That didn't happen. Honda wanted to start selling higher CC bikes at that time, and they did start selling imported bikes like Honda CBR and Shadow, but I don't think $200 million investment was required for that because they are being imported. Maybe it would have been actually better to invest that in improving their products. Atlas made a lot of noise about their technology project that ended up costing them above US$ 7 million and in the result we were bestowed with Honda CD Dream. About the new bike, Atlas Honda says, and I quote:
    "Powered by a superior and durable Econopower engine that's engineered with technology, delivering exceptional fuel efficiency and is environment friendly."
I went through technical details of both CD70 and CD Dream and they look exactly the same to me. I am sure more experienced readers can shed some light on this better than me. It just looks like a aesthetically fancier version of normal CD70.
Also Check Out: Heavy Bikes for Sale in Islamabad
However, there was an increase in production. Atlas Honda was producing less than 600,000 units per annum before that investment. From FY 2012-13, their production crossed 600,000 mark. But the point of all this charade is, with $200 million, Atlas Honda started selling fancy sports bike that no one buys and started producing around 50,000 more units than before. At that time, in 2013, their plant had the capacity to produce 600,000 plus bikes. And we didn't see any bikes that can be declared as "Pakistani engineering ka shahkar….falana falana Honda". Meaning there were absolutely no hints of any sort of local research and development to make homegrown bikes, more suitable to the needs of a typical Pakistani bike rider. But with the US$ 100 million, they are only doubling the current production rate.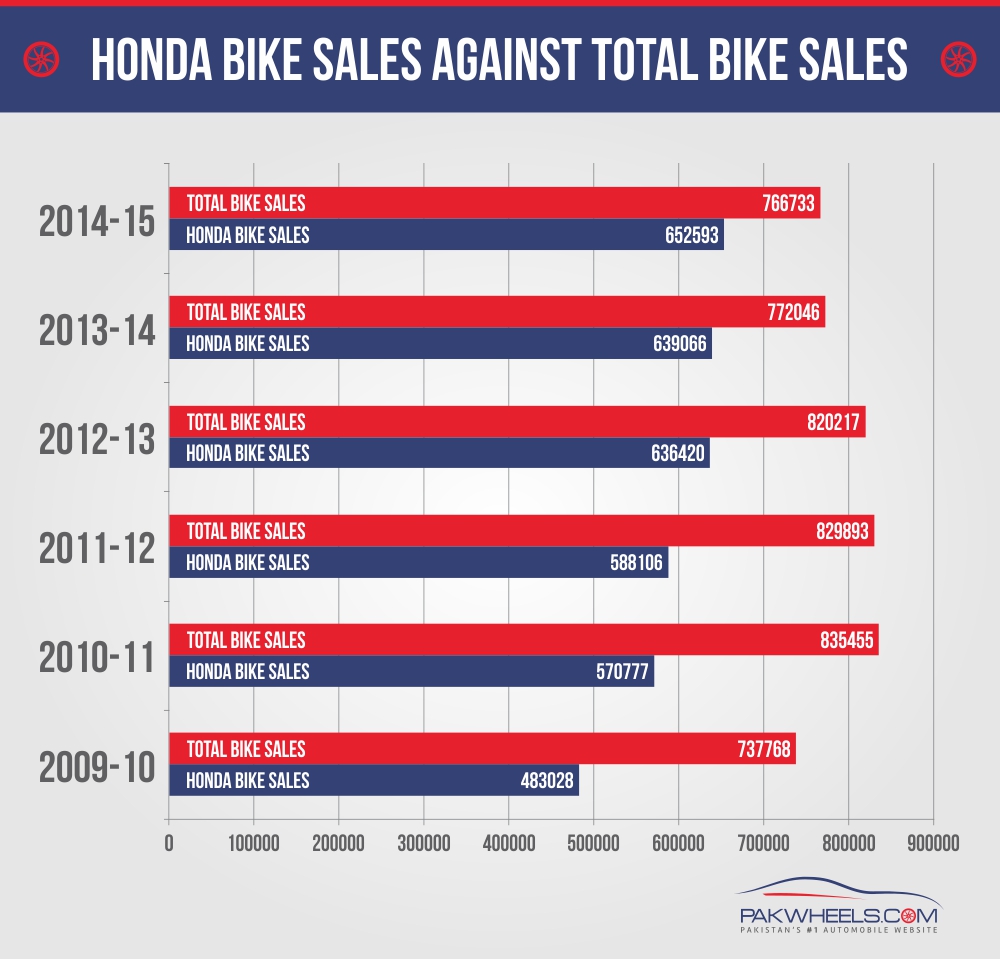 Figures: PAMA
So, Atlas Honda is expanding its operations and will start making around 1.3 million units a year. Hurray!! Or maybe not so much hurray, considering there are no signs of them introducing actual new products. Honda already sells so many bike. Take a look at the graph above. Atlas Honda is selling more than half of the total bike sales of Pakistan in recent years. They are only going to multiply whatever they are spewing out of their factories by 2; same old 70, and same old 125. Please don't get me wrong, it is absolutely fantastic that Atlas Honda is investing in Pakistan, and in the result, will give a boost to the economy and will also be creating thousands of jobs. That is very commendable. Our country needs that; we need that. But please Atlas Honda, please come up with something that is actually exciting, something that is proudly designed, engineered and made in Pakistan, something that has more than that typical 'dug dug' sound of a CG125. Look at that Yamaha YBR125. It is a beautiful bike. Or that Road Prince Wego150.
But let's be fair, you can't blame a company for doing something that is best for business. I mean if we are not bothered with what kind of crap we are buying, why would they waste their energy and money to change? If we are fine with that nearly half a century old bike, why would Atlas Honda bother upgrading it, let alone coming up with a new product? Our nation is still stuck with that mentality of "yaar 125 ki jo awaz hai na…bas!!". We point at bikes like YBR125 or Suzuki GS150/GD110 with disdain just because they are not loud enough. But, considering the average age of this nation is 23 years, no wonder we are still attracted towards things that make noise. We are still afraid of the ghosts of resale. I am pretty sure many don't buy a Honda bike because they actually like them, but only because they sell quickly in case you need money due to some emergency.
From left: 2015 Honda CG125, 1983 Honda CG125 (Japan), 1981 Honda CG125
Although, I must add here that Yamaha was a breath of fresh air. Before Yamaha, Ravi-Piaggio tried to challenge the status quo, and now Yamaha is doing the same. Believe it or not, there is a waiting time on new Yamaha. There are those who are not just interested in 'dug dug' noise or resale of the bike is not their only concern but are interested in a machine that has something new to offer.
As much as we are happy about the potential economic benefits that investment is going to bring in terms of jobs, but what would actually be great is if Atlas Honda use that investment to improve their product line by adding real options to it, using localized resources in design and engineering with the help of Honda Japan and ultimately contribute to our country by being self-sufficient, and not just clone and multiply whatever they are producing right now.