Pakistani automobile sector is flourishing, there are no two opinions about it. The sales of locally made manufactured cars are ever so high. 151,134 units were sold in FY14-15, compared to 118,102 units in FY13-14. In the Q1 (July to September) of current fiscal year (FY15-16), a total number of cars sold was 44,372 units, compared to 27,630 units sold in the Q1 of FY14-15 according to Pakistan Automotive Manufacturers Association. Toyota Indus sold 13,512 units in first three months of the current fiscal year compared to 8,546 units in the first quarter of the previous fiscal year. Honda Atlas, although didn't do as great as Toyota Indus Motors but they did manage to go by. Their numbers for sales of both City and Civic from July 2015 to October 2015 are as follows:
July – 2181 units
August – 2002 units
September – 2001 units
October – 1875 units
Although Honda Atlas skipped new international Honda City, the sales of City are going strong as well. You can only buy them on premium if you want an immediate delivery. New Honda Civic is also expected in the September of 2016.
Also Read: Honda Atlas, Time To Shakeup Your Product Line
On the other hand, Pak Suzuki saw some massive improvements in the sales of their Ravi carrier and Bolan people carrier vehicles, thanks to the Punjab Green Taxi Scheme. Sales of Ravi went up some 320% in the months of Jul-Oct15' when compared to Jul-Oct14' (3,910 units in Jul-Oct14' and 12,513 units in Jul-Oct15'). Bolan's sales total for Jul-Oct15' is 13,019 units and it was 4,228 in Jul-Oct14'. Wagon R even though being not that popular also did well compared to last fiscal year sales number.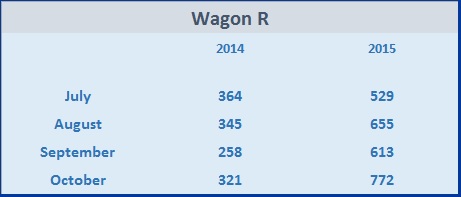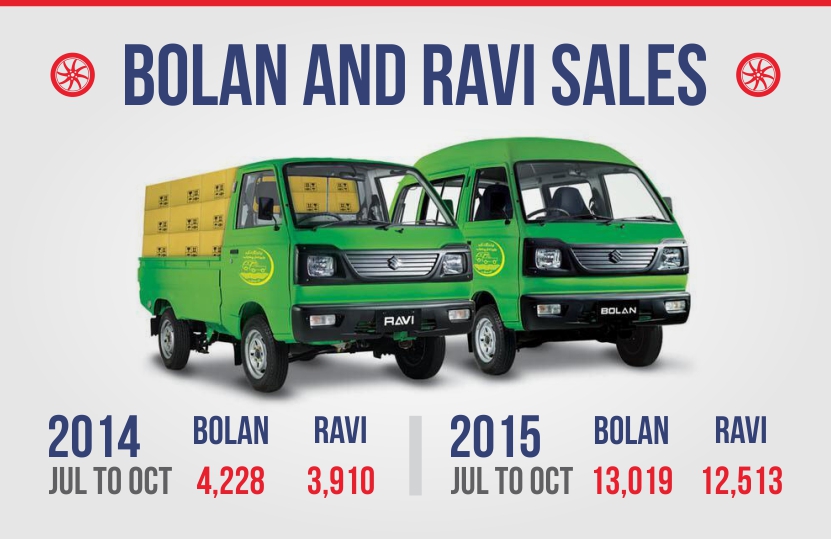 Motorcycles business is on the rise as well. Yamaha YBR is selling like hotcakes. Atlas Honda is investing 100 million USD in the expansion of its manufacturing plant to take their total output to staggering 1.3 million units a year from current 0.6 million units a year. It is a completely different debate whether we will be getting new bike models or the same old decades old CD70 and CG125.
Also Read: Atlas Honda Is Investing US $100 Million To Increase Its Production
PAMA will release numbers of cars and bikes units sold of November in the first week of December. We can safely say that they will also show the improved overall state of Pakistani automobile manufacturing sector. So sum it all up, it has been going great for the current automakers.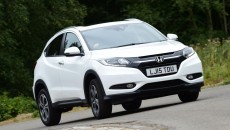 In previous blogs, we also talked that our Big-Three automakers are bringing out new models and cars in a year or two. The most imminent is the launch of Thai-made HR-V by Honda Atlas in the Q1 of 2016. Also, they will be launching their flagship Civic next year as well. Other than that, Pak Suzuki is also going to replace Suzuki Cultus with Suzuki Celerio. Toyota Indus Motors is pondering upon the option to start locally assembling the much loved Toyota Vitz, along with Toyota Vios. These companies wouldn't bother to bring out more cars to Pakistan if they weren't sure they will be able to sell more cars.
RELATED: Suzuki Celerio Is Going To Replacing Suzuki Cultus
These are some exciting times if you are an auto enthusiast. I read somewhere that currently 13-14 people out of hundred own cars in Pakistan. So no doubt there is a big gap in the market that automakers, including new ones, want to exploit. Pakistan's auto industry is still young. We only make less than 200,000 vehicles annually. There is still a huge potential in our market, for other car makers to enter Pakistan.
And one clear evidence of our market potential is the fact that officials from foreign nations are meeting with our government in order to accommodate them and their car manufacturers in our upcoming auto policy. Foreign government officials have been meeting and talking to concerned ministries and departments here in Pakistan, asking for special leeway to help them launch their automobiles in Pakistan.
Few months ago we heard about Volkswagen officials who met our Board of Investment officials and showed interest in selling VW cars in Pakistan. We got really excited to hear the news until Volkswagen got trapped in the dieselgate scandal. One of our bloggers even came up with a list of VW cars that Pakistanis would love to see here.
You can read more about the upcoming auto policy here.
Then we heard that Nissan wants to continue their operations in Pakistan with Ghandhara Nissan Limited and re-launch their cars. The committee that was working on the new auto policy has already decided to help closed units to re-launch their products in the upcoming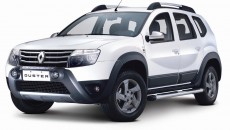 policy. And since Nissan and Renault work together now, there is a chance that we would see Renault cars as well. French emissary Martine Dorance told Pakistani officials that Renault is interested in selling cars in Pakistan. That can happen through its partner Nissan. They also met with concerned ministers and secretaries to make sure some special consideration is made in the new auto policy for anyone who wants to re-enter the Pakistani automobile manufacturing industry. As mentioned above, it has already been decided to provide special incentives to closed units like Nissan. Consideration like this can help Dewan Farooq Motors as well who were making and selling Kia and Hyundai cars. Nissan should bring its Datsun cars in Pakistan as well.
Belarus also wants to invest in automobile parts sector. Belarusian delegation informed Ghulam Murtaza Khan Jatoi, the Minister for Industries and Production, that investors from Belarus want to invest in plants for making parts for mainly heavy machinery and agricultural equipment.
And lastly, Russian delegation met with the officials of Islamabad Chamber of Commerce and Industry and showed interest in investing in passenger car manufacturing in Pakistan among a whole host of other investments in the energy sector. I talked about that in my previous blog that if Russians want to make a plant here and hire local Pakistani workforce while launching cars that are not only cheap to buy but also cheap to maintain, then I am okay with them selling old-looking cars like Lada Riva, etc. The whole point of the new auto policy is to bring competition and lower the prices down.
Also Read: Russia Is Interested In Investing In Various Sectors In Pakistan Including Auto Sector
Tuneo Kitamura, the Japanese Vice-Minister for Economy, Trade and Industry, held meetings with various Pakistani ministers and government officials in the wake of expected launch of the auto policy. And he is not the only one. Both German and French delegations met with Pakistani finance and commerce ministers and talked about potential incentives for newcomers in the new auto policy.
If we summarize all the meetings, it's something like this; Europeans want incentives for the newcomers, and Japanese are against the incentives for Europeans. They want them for themselves as well.
Pakistani automobile market is ruled by the Japanese. Our Big-Three car makers are Japanese; Toyota, Honda and Suzuki. And these three have got our auto industry and market in their fierce hold. No way they are going to be okay with if Pakistan starts to make it easier for new car makers to enter our market. Their point is if Europeans are being accommodated with relaxed rules and incentives, they want the same treatment as well. I get that Japanese have concerns regarding their car companies working in Pakistan, but they have seen some amazing growth and success in Pakistan. Japanese have the monopoly on our car market. They should have confidence in their product. I don't think it's appropriate for Japanese to dictate our auto policy or put pressure on our government to change our policies to favour them.
Our government's first duty is to serve Pakistani people and consumers. As mentioned before, the whole purpose of making new auto policy was to help bring new players in the auto industry and promote competition. The prices for new cars in Pakistan are awfully high. Cheapest new car in Pakistan is a Suzuki Mehran (PKR 625,000/-). We should be able to buy an averagely decent brand new small sedan around this price. The government is trying to find a perfect balance with current auto makers and possible new entrants. So as much as we like our local Corolla or City, we won't mind a Renault or a Lada. Competition and more options are always going to be beneficial for the end user/buyer; meaning us.