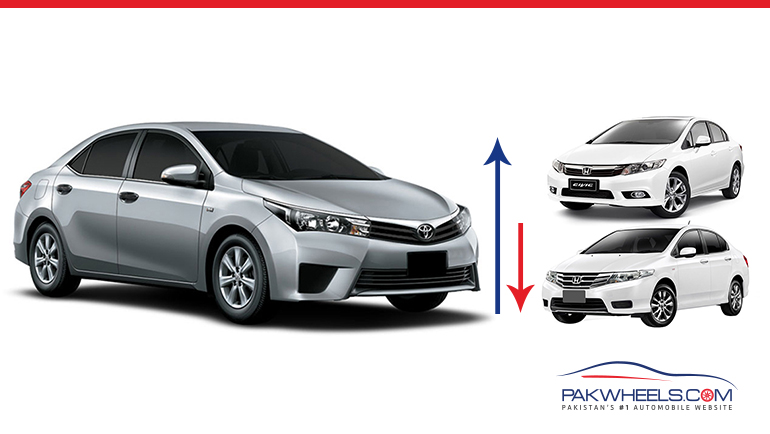 Toyota Corolla Selling Like A Hotcakes, Honda Civic Sales Dwindle
As always, Toyota Corolla is selling like hotcakes. 4,672 units were sold in September, and 4,910 in October. 9,582 Toyota Corolla cars were sold in just two months. Honda sales, on the other hand, are not that great. We could only find City and Civic combined sales number. Here are the sales of both City and Civic from July 2015 to October 2015.
July – 2181 units
August – 2002 units
September – 2001 units
October – 1875 units
The downward trend in Honda cannot be a good news for anyone involved with Honda Atlas. Folks at Atlas decided to skip Honda City's generation as well. But it is not all doom and gloom. Considering new Civic will be launched next year, you can expect Honda Atlas to make a comeback. But until then Atlas will, unfortunately, struggle unless Honda Atlas is successfully able to market and sell its Thailand imported HR-V crossover, that is coming in the Q1 of 2016.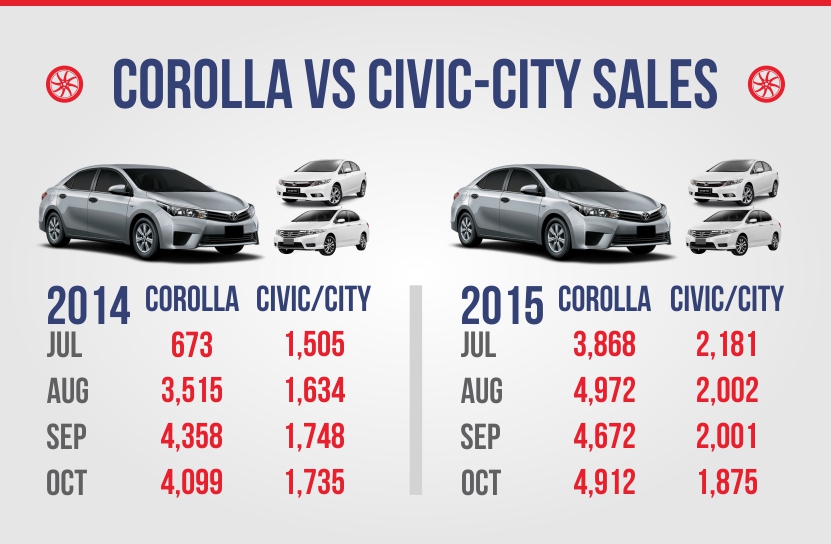 The sales of the locally made cars in the last four months (July to October 2015) have risen to 55%, compared to sales in the same months of the previous year (July to October 2014). Sales figures of all the locally produced cars for July 2014 to October 2014 were 38,862 units. Whereas this year, the sales have gone all the way up to 60,081 units. That is a great news, not only for the auto sector but also for Pakistan's economy.
Suzuki has seen some improvements in its sales for some models as well. Sales of Cultus increased few hundred units (2,181 units in Sep-Oct14' and 2,606 in Sep-Oct15'). Same is the case with Suzuki Swift (606 units in Sep-Oct14' and 624 in Sep-Oct15'). However, Suzuki Bolan has been doing great. Who would have thought that happening? But thanks to the Punjab Green Taxi scheme, Bolan as well as Ravi are doing great. 4,228 units of Bolan were sold from July to October 2014. The number jumped all the way up to 13,019 in the months from July to October 2015. That is an increase of more than 300pc when compared to last year's numbers. And same is the situation with Ravi loader. Pak Suzuki was able to sell only 3,910 (Jul-Oct14') whereas the number went up 320pc this year (12,513 units were sold in Jul-Oct15').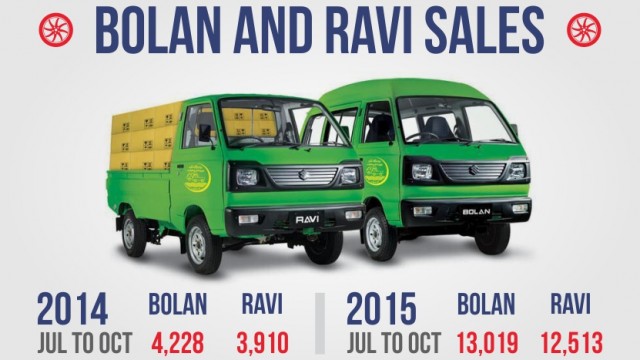 Sales of Wagon R doubled as well. The sales numbers are as follows.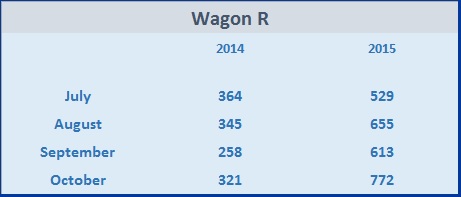 So overall, the local auto sector is thriving. Even with the threat imported cars, auto sector sales didn't budge. Of course, it is possible that imported cars could have put at least some dent in the sales of the local cars. Considering Big Three of our auto sector are bringing new cars and models between next couple of years, things will only get interesting. Toyota Indus might start assembling Vitz and Toyota Vios locally. Also, Pak Suzuki is gearing up to launch its Celerio, to replace Cultus. Honda Atlas is also going to launch HR-V at the start of the next year. More competition among the local car makers means better options for an average auto consumer.