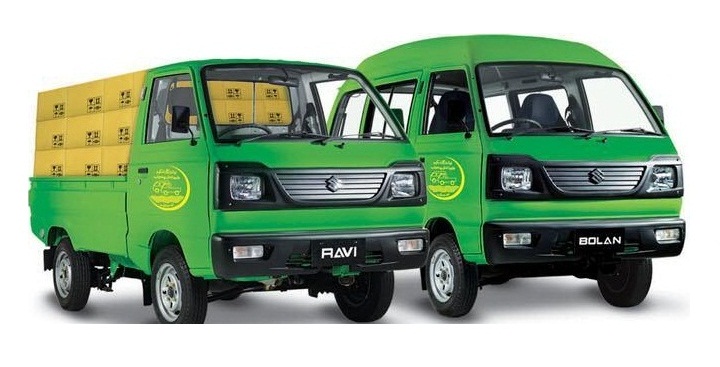 Punjab Green Taxi Scheme Pushes Pakistan Car Sales Up By 72 Percent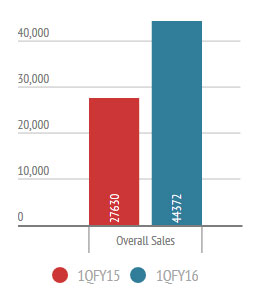 Automobile assembling companies' sales of various brands have continued to increase in the country mainly due to the increase in the purchasing power of consumers, easier car financing and taxi scheme of the provincial government of Punjab, showing a significant rise of 60 percent in numbers in the first quarter of financial year of 2015-16 (1QFY16) as compared to the previous financial year.
According to statistics released by Pakistan Automotive Manufactures Association (PAMA), local automobile assemblers sold 44,372 units of different variants in the first quarter (from July to September) compared to 27,630 units recorded in the same period of in 1QFY15. Despite the competition from foreign imports, local car manufacturing industry is going strong.
Pak Suzuki
Pak Suzuki Motors' sales increased by 98 percent in the period of July to September to 33,770 units, compared to the previous year, primarily due to Punjab Government Taxi Scheme.
Result being; the sales of its flagship brand, Suzuki Bolan increased to 8,482 units in the first quarter of 2015 which was stood at 6,241 in the previous year depicting an increase of 36 percent. Besides other brands of Taxi Scheme, Suzuki Mehran sales also increased to 9,896 from 3,020 showing an increase of staggering 227 percent.
Also Read: Previous Sales Numbers Of Corolla And Civic (July-August)
Toyota Indus Motors
New model of Corolla has stolen the show in the overall market as the most sought after brand in Pakistan which is the reason it has been a top selling brand so far in the present financial year. Its sales increased to 13,512 in 2015 as compared to 8,546 showing a surge of 58 percent.
Honda Atlas
The two brands of Honda are still popular at large mainly due to its customers whom only prefer to have these brands. The sales increased to 6,184 in the first quarter of FY16 as compared to 4,887 units recorded in last year, showing a surge of 26.5 percent.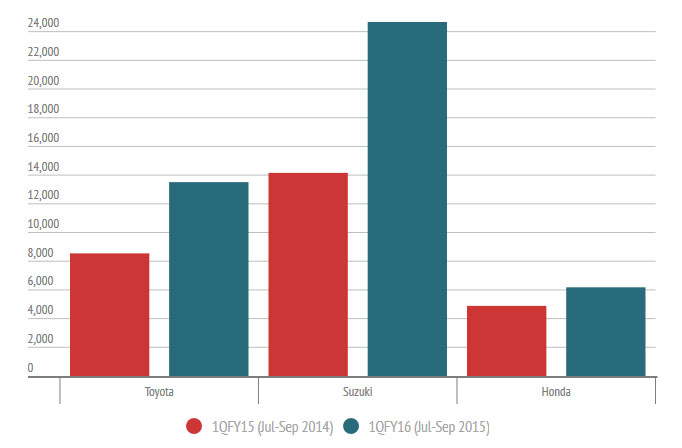 These brands are consistently posting sales growth despite the new model of Toyota Corolla launched by its competitor. This indicates that overall market size of Pakistan automobile sector is growing. Do keep in mind that these figures are combined numbers of Civic and City. Its a possibility Honda Atlas is trying to hide dwindling sales of one brand, probably Civic, by adding sales of the other (City).

Others included brands such as Suzuki Liana and Hundai Santro.
In September 2015, the cars sales declined by 5 percent or 361 units as against August sales due to Eid Holidays in the country but the current abnormal jump owes to Punjab government's taxi scheme.