Good new! As James May would say; Toyota, Honda, and PakSuzuki are planning to launch more cars in Pakistani in 2016-17. Reports coming from sources say that Indus Motors is planning to start assembling its ever popular Vitz in coming couple of years, although they have denied it but we are going to hold on to the news for now. Also, Pak Suzuki is going to replace their Cultus with Celerio.
But the most imminent launch by any local manufacture is of HR-V by Honda Atlas.
According to the news, Honda Atlas has already ordered for the HR-V CBUs (completely built units) from Thailand. Honda Atlas has taken help from their Thailand counterpart before in the shape of previous Honda Accord. It was mostly known as the 'Thai Accord' all over Pakistan. The sources from carmaker have said that the HR-V is going to cost customers somewhere around 3.5 million PKR.
If you look at it, Honda Atlas is currently far behind the competition. I mean they skipped a generation of Honda City and are dragging the current fifth generation City until seventh generation is launched internationally. By the way, the sixth generation Honda City made its global debut in India in November of 2013 and it looks beautiful. They skipped a whole generation and shoved a different shape grille in the mouths of their consumers as a soother and launched the 'refreshed' Honda City.
They did the same thing again with their Civic; another chrome grille for the Honda loyalists. Current generation Civic has continuously seen a decline in its sale. 9th generation Civic was launched in September of 2012.
The numbers in the graph below are from fiscal year to fiscal year (July to June). In FY 2012-13, the first couple of months had been where Atlas was still selling 8th generation Civic. Honda City has been selling fine though, and the number of total units have increased every year since FY 2012-13. That magic front grille has worked. No wonder they are not bothered with sixth generation City. And since the 10th generation Honda Civic is on the horizon, I don't see current Civic selling more units of it as well. But until that happens, Honda Atlas needs something more than just Honda City.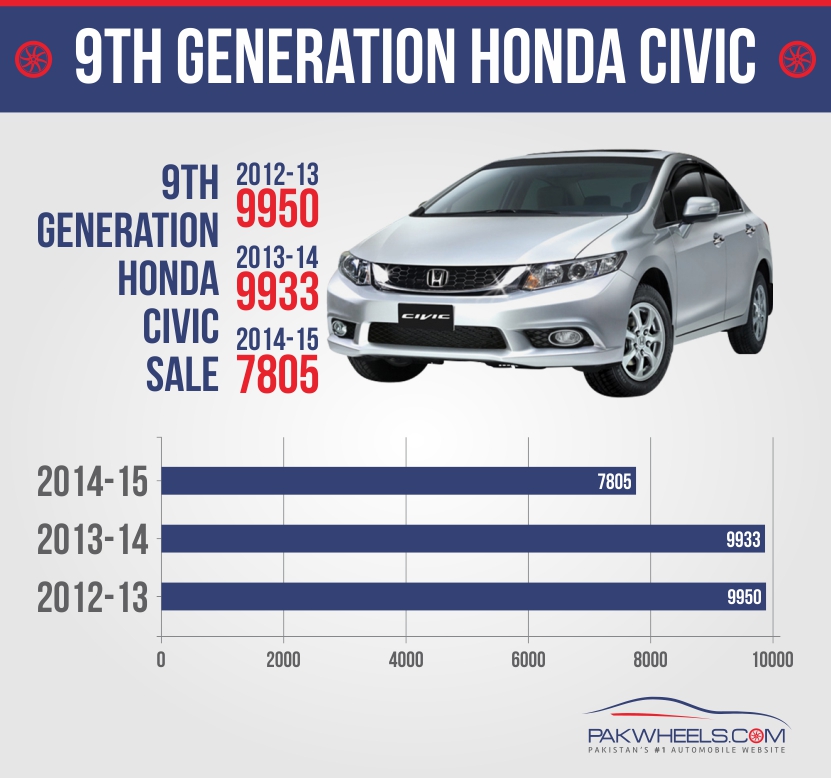 And that 'something more' can be this HR-V. It can potentially drag Honda Atlas to the front. At least that is what they are hoping for.
HR-V is basically a rebadged and faintly restyled Honda Vezel. The front grille is the most notable difference. The grille…its always the grille. Vezel is an all-Japanese vehicle and is built and sold locally in Japan, whereas HR-V was made to sell internationally. Vezel went on sale in japan in late 2013, whereas HR-V went on sale in late 2014 in Thailand, and in last May in USA. Initially, the HR-V was revealed at New York Motor Show as a concept car.
Vezel and HR-V both come with a 1.5l or a 1.8l engine. I did a quick search on PW used car section and found three 1.8l Vezel cars as well. However, the news is that the Thai HR-V sold by Atlas will come with a 1.5l engine. Vezel comes with a clever 7 speed CVT gearbox. Initially, Vezel along with new Honda Fit Hybrid were diagnosed with a couple of software bugs, and you can read about that in our previous blog post linked below. But those were found in only the early editions (2013-2014) of both cars.
Also Read: You Can Read Vezel And Fit Hybrid Thread Here
I'm pretty sure new Vezel or HR-V have updated software that fixed the potentially dangerous bug that could make the car speed up unintentionally. The Thai HR-V went on sale in Q4 of 2014. So unlike early Japanese Vezel, we can expect it to be bug-free. Is it me or the new cars depend way too much on softwares?! Anyway, moving along…
HR-V stands for Hi-rider Revolutionary Vehicle. The first generation of HR-V was absolutely hideous and was on sale from 1998 to 2006. And we must thank Honda for killing it. The second generation, however, is far better looking than its predecessor. The 1.5l motor in HR-V and Vezel (L15B) is a different variant of the same L15 we have in our 1.5l Honda City (L15A). The 1.8l of HR-V and Vezel must also be related to the R18 we find in our local Honda Civic.
Now the thing is, you can buy a new 1.5l Vezel from the market for 3.0 to 3.3 million PKR, depending on the color and variant of the car (fancier Vezel can cost more than that). And as mentioned above rumors are that the HR-V will be sold for 3.5 million PKR. And it is just a rumor. It is a possibility that HR-V will end up its customer costing more than 3.5 million. If it's less than 3.5 million, than kudos to Honda and Honda Atlas, but a cynic in me don't see that happening.
The question is, why would anyone want to spend 3 to 5 lac more on the same car with a different badge? Also, you can always argue that the Japan imported cars have better build quality and features than the Thailand imported HR-V. Toyota Indus tried doing that and failed miserably. They tried selling their Prius for PKR 4 million plus whereas you could buy the imported Prius for PKR 3 million at that time. I did a little research and PakWeels is filled with imported Prius for 2.2 to 2.5 million PKR including 2015 model Prius. And on Toyota Indus Motors website, it says exactly 'PKR. 4,449,000/-' and that is a huge difference. You can buy another car in that difference. A friend working at a Toyota dealership in Lahore told me that they have sold only one Prius until now.
Same can be the case with HR-V. Right now importers and dealers know their Vezel are selling like hot cakes, so they can demand whatever they like. But when the market will get saturated, and Honda Atlas will have their Thai HR-V, the importers and dealers will reduce their asking prices as well. I don't think there would be a lot of customers who would prefer spending literally hundreds and thousands of rupees extra just so they can have a multimedia system that is in English and not in Japanese, like Vezel's.