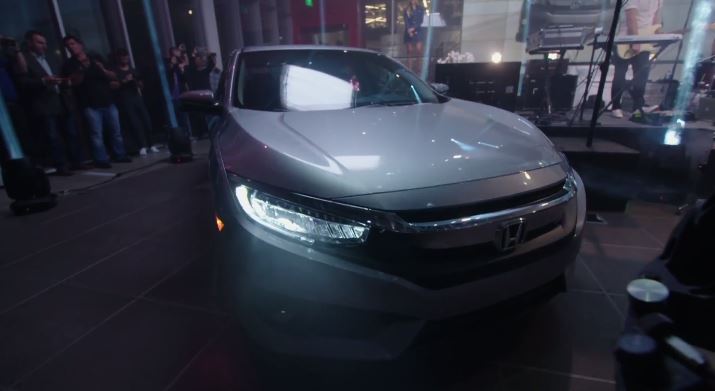 2016 Honda Civic Launch Video Featuring Night Riots
We are attaching a launch video of the 2016 Honda Civic. Honda launched its 10th generation Civic Sedan at an event in Los Angeles, US. The launch ceremony was hosted by Hollywood corespondent and radio jockey Liz Hernandez and was aired on YouTube Live. The ceremony was full of glitz and glamour, including performance by US based rock band Night Riots.
After the brief introduction, Night Riots officially started the event by performing their song 'Contagious'. Later, the host invited the Product Communications American Honda Sage Marie to tell the members of the press and viewers all around the world about the 10th gen Civic. Sage started by telling Honda Civic's history and how it has evolved to what it is now, and how it attracts young buyers. He further said:
"This is the most ambitious Civic redesign ever."
After that, Liz returned back to the stage for official revealing of the 10th generation Civic, and the wraps were removed in front of the press and audience, followed by blaring camera flash lights and loud cheering.
The host then introduced the exterior lead designer Jarad Hall who told a little about the design process and the different departments he worked with to come up with the design of the new Civic. He also told that the basic design initially started in Japan, and how he and his team finished it off in Honda's LA Design Studios. Jarad also touched upon the strong and muscular lines of the exterior and sportier driving position, with low and wide stance. And add 10 speakers audio system to the mix, and you get the 10th gen Civic.
After Jarad Hall's speech, Night Riots took over the stage for another performance. Coincidentally the lead singer of Night Riots Travis Hawley became friends with Guy Melville-Brown, the Exterior Designer of 2016 Honda Civic Coupe, when they both were in university studying in Italy. After the last performance by the band, the ceremony was concluded.
So there you have it, the 10th Gen Civic Sedan.
The ceremony starts just after 13 minutes mark so you can just skip to that. We are attaching a Pakistan friendly video link so you don't need to turn your VPNs on. Enjoy!
For the official launch photos posted earlier, you can click here.