Honda has officially started to sell its much awaited 2016 Civic…internationally; that is. American Honda Motor has started to take orders and sell their highly anticipated 10th generation Civic. The all-new Honda Civic 2016 was launched at an exclusive event in Los Angeles few months ago. You can see the launch event in the link below. Honda will be launching its new Civic in different body variants; sedan, notchback, coupe, etc. The launch in Los Angeles was of Honda Civic Sedan. But Honda is all set to launch the coupe version of 2016 Civic at the upcoming Los Angeles Auto Show in a week or so as well. It will be interesting to see how much the coupe will differ stylistically from its sedan sister.
Also Read: Honda Civic 2016 Launch Video Featuring Night Riots
Honda America has put up the start price of 2016 Civic at USD 18,640. That converts to around PKR 1,965,000. That is kind of mouthwatering if being honest. Base model 2016 under two million PKR sounds perfect. Of course, this is not the exact price Civic will be sold at, when launched in Pakistan next year. Also, the base model in the USA is equipped with Honda's new 2.0l NA engine that produces 158 BHP. The EX-T is the base model with 1.5l turbo engine and is available for USD 22,200/-. The US version of Honda turbo is reportedly producing 174 BHP and 162 lb.ft of torque.
In a previous article, I argued that there are chances Honda Atlas might launch the new Civic with the current R18 engine. And our lovely Honda fans didn't like the idea at all. And they are just in their argument. Honda Atlas has already used the R18 engine for its 8th generation (the almighty 'Reborn') and the current 9th generation, so it is only fair if Honda fans want an update. "Yaar Corolla aur Civic mein kuch to farq ho." as one of my diehard Honda-fan friends once said. People are somehow okay with Toyota and Suzuki selling same old thing again and again, but Honda fans blow a gasket (no pun intended) if Honda tries to sell them same old thing.
Check Out: Honda Civic 2016 price in Pakistan
One thing that should be made clear is that Civic's and Corolla's potential buyers differ from each other. People who buy one car have completely different agenda in their mind from those that buy the other. So we can't exactly make them compete when it comes to number of sales. In yesterday's article about current sales number, we talked about how the Civic sales are crumbling compared to Corolla. From the looks of it, that looks disastrous. But when you look at the situation from a different angle, maybe you will find that there is more than what meets the eye.
Below are the number of sales from July 2015 to October 2015 of both Corolla and Civic in Pakistan.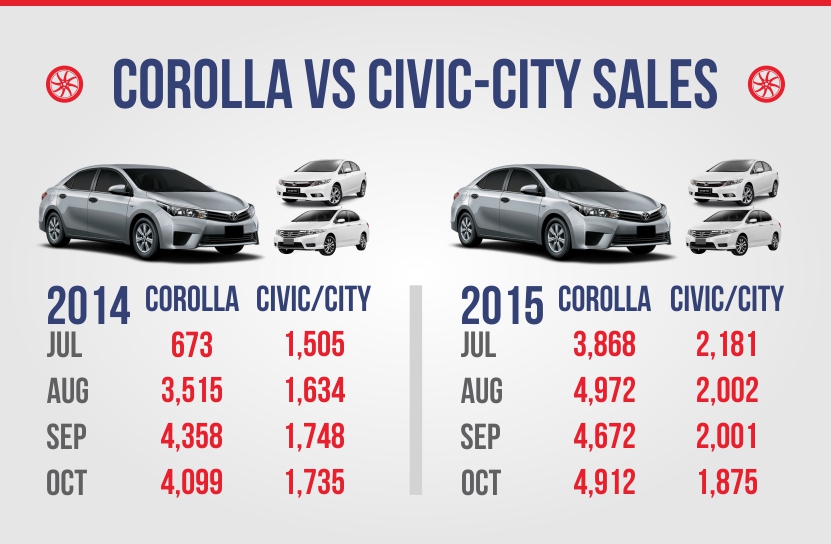 But if we are not comparing Civic with Corolla, no one should have an objection if we compare current Civic sales from the sales figures of the past. Contrary to the popular belief, the 9th gen Civic did quite well compared to its predecessor, although sales have dropped in 2014-15 compared to previous two fiscal years. You can see the sales figures of both generations below. But considering how the Corolla sales have gone absolutely bonkers, it feels like even those who used to prefer Honda are going for Corolla this time around. The latest statistics released by Pakistan Automotive Manufacturers Association doesn't even show only-Civic numbers. There are only Civic-City combined sales numbers. So, unfortunately, we can't exactly pinpoint the number of Civics sold in last few months for comparison. I can safely say this that in those sales figures, Honda City is hogging the major portion. City is currently being sold on premium. So it is the Civic that isn't doing that great. Civic is Atlas's premium product. They can't just go without selling it for a long time. Civic need to make a comeback…with a bang! It is not just about auto sector, or that people are not getting cars that they like. It is far more important than an 18-year-old not getting a new turbo Civic on his birthday. It is about all the smaller businesses and vendors that rely on Honda Atlas for their economic activity. They can be in a lot of trouble due to Honda Atlas's lack of ability to sell variety of cars.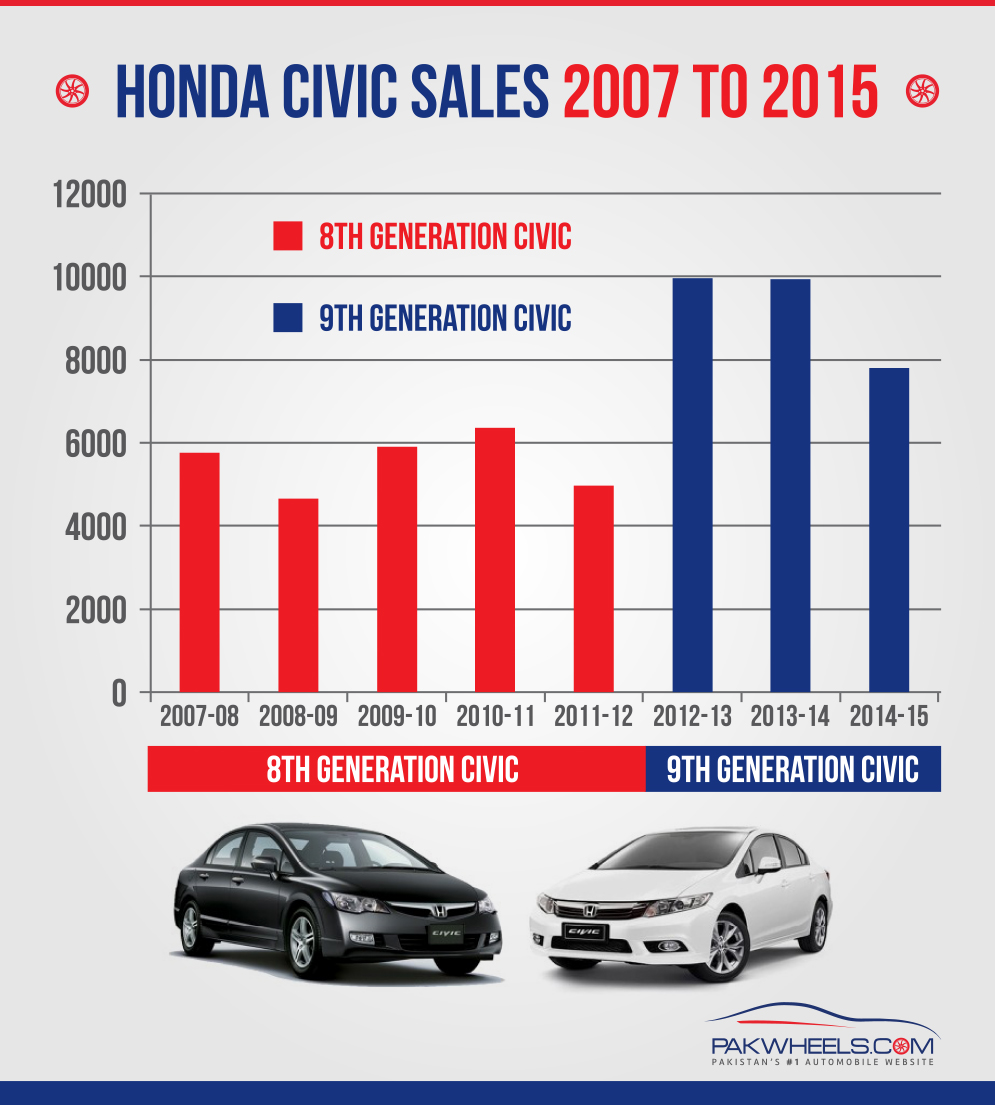 Although it's not like City's sales are slumming, but maybe Honda Atlas shouldn't have been lazy about launching the sixth generation City. City is doing fine as mentioned before, but new gen City definitely would have helped Honda Atlas. The sixth generation of City was launched in India and is being manufactured in countries including Indonesia and Malaysia to name a few. It is also being sold in Japan as Honda Grace Hybrid. The point why City is selling relatively better than Civic can be attributed towards the notion that maybe Pakistani auto consumers were not as such aware of the existence of the new City. Who knows, had the majority have known that Atlas is not selling new City, maybe those buyers would have gone for some lower variant Corolla. But I am just guessing here.
My point is that Honda Atlas need to diversify. They cannot operate on a same business model as Indus Motors; selling boat load of visually similar cars. All we can hope that Honda Atlas soon find success. Their plan to sell HR-V might work to some degree. But selling an imported vehicle can only be a short fix. Honda Atlas definitely needs to rethink their strategy. Selling new City and Civic is definitely going to help. But is that all? I don't think so. In my humble opinion, Honda Atlas should start thinking about launching relatively smaller and cheaper cars. How about assembling and selling Jazz/Fit cars locally? Let's be honest, no one's going to buy that overly priced hybrid sports car CR-Z. I do believe if they decide to sell small cars, hybrid or otherwise, in Pakistan with full after sales services, and aftermarket support, they can increase their market share in different segments to a respectable level.