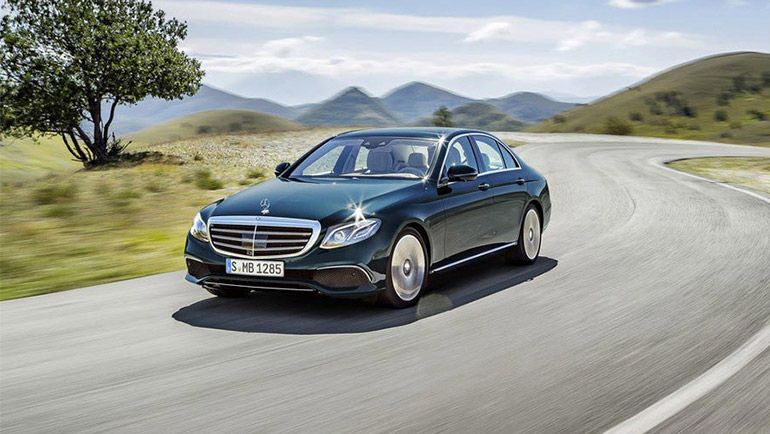 2017 Mercedes E-Class Revealed Before Official Launch
2017 Mercedes E-Class has been revealed before its official launch at the upcoming Detroit Motor Show next week. Before the detailed and hi-res photos, Mercedes had teased the automotive world with the details of their new car.
The photos were an unintentional leak by the German automotive website Auto-Presse. Although photos were then quickly taken down but not before a bunch of other sites had already grabbed them. And as expected, the new executive sedan follows the same design language Mercedes has employed for their new Mercedes-Benz C Class and Mercedes-Benz S Class cars.
Also Read: Mercedes Benz SL|PURE Concept Is A Modern Take On The Classic 300SL Merc
The interior of the new E-Class has new wide high-resolution dual displays. Each screen measures more than a foot. Mercedes is going to launch their new E-Class with their new Multibeam LED headlights. It feels like Mercedes-Benz has put in some extra effort in the development of the fifth generation of their E-Class. The whole interior is electronically controlled and brings the best the German automaker has to offer. The interior looks as luxurious as ever.
Although there are no technical details of the 2017 Mercedes yet, it is likely that the German automaker is going to introduce their new inline-6 engine line in this car. Inline-6 engines are going to replace the current V6 engines. You can also expect an AMG variant of this car as well. The AMG-tuned E63 E-Class will probably have a twin-turbocharged V8 to power the car. Since hybrids are the way to go nowadays, there is also going to a plug-in variant of the executive sedan as well.
Watch the interior video below: