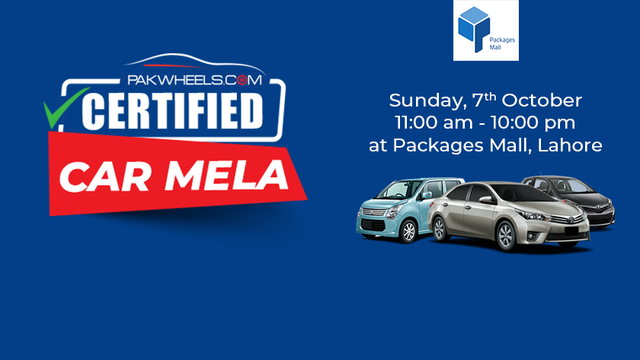 PakWheels launches certified car program; organizes first certified car mela!
Buying a car is a hectic task and it becomes more tiresome when its a used car. In Pakistan, last year around 7.5 lac used cars were traded (sold and bought) and around 2 lac new cars were purchased.
Although there is huge used car market in the country, still more than 80% of the countrymen believe that buying a used car is a great risk, no one knows what kind of a problem it may give to the owner after purchasing it. Considering the market need for safe and reliable used cars, PakWheels has launched its very own certified car program to help customers buy used cars with complete peace of mind.
What is Certified Car Program:
PakWheels.com certified cars are one of the great used cars, inspected and certified by our team of experts. This program offers a thorough inspection of the car with the help of latest equipment and expert technicians and if it is imported vehicle PakWheels verify the auction sheet as well and give certification to the car and also a guarantee that the car is in optimal condition and auction sheet along with other documents are 100% authentic. The program aims to help car buyers in Pakistan by removing one of the biggest pain points while buying used cars, that is, the fear of getting deceived.
PakWheels.com has full confidence in its certified car program that's why we are giving repair warranty of 30 days or 1000 Kms to the buyers.
With these services, PakWheels.com leverage their expertise and reach to help car buyers make informed choices on buying their dream car, changing the way used cars are traded in the country.
Certified Car Mela
That's why, once again, in an aim to help the people of the country and in an attempt to revolutionize the auto sector, PakWheels.com organizes the first-ever Certified Car Mela to give our people a unified platform to buy their dream car. The event is going to take place on Sunday 7th October 2018 from 11:00 AM to 10:00 PM, at Packages Mall parking, Lahore. All the cars have been certified under PakWheels.com Certified Car Program.
The potential buyers will have hundreds of certified cars to choose from, which includes local and imported hatchbacks, sedans and SUVs and each car will have its own comprehensive inspection sheet attached to it. Moreover, the car dealers will also be available there to guide the buyers personally.
Other services which PakWheels.com is offering are Sell it for me, Buy it for me, PakWheels Car Inspection Service and Online Auction Sheet Verification. By using these services one can easily sell and buy the car without any hassle.
So, do not miss the chance and buy the used car with confidence.