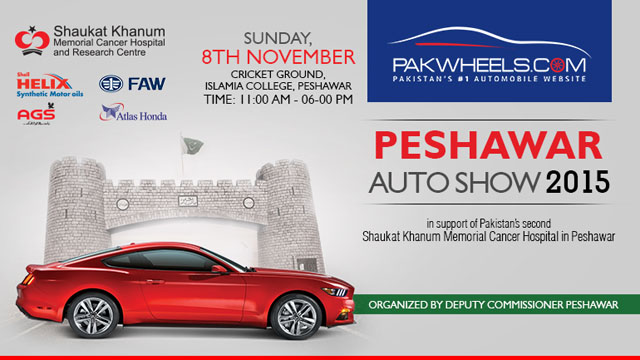 PakWheels Is All Set To Bring Its Auto Show To Peshawar In November For The First Time
PakWheels is back with yet another auto show, and this time we are going to the beautiful City of Peshawar. This is for the first time PakWheels is organizing an Auto Show in Peshawar. This is a great opportunity for auto enthusiasts of Peshawar to come and join the largest automobile community for an outdoor activity along with their families.
PakWheels has been arranging and organizing car shows throughout Pakistan, cities including Karachi, Multan, Lahore, Islamabad and many more. It is for the first time that the people of Peshawar will witness the amazing event in their home city. PakWheels Auto Shows are the evolved iteration of the PakWheels meets or get-togethers its members used to arrange on their own throughout Pakistan. The roots lie in the same principle of people interacting with each other because of the common love and admiration for anything related to automobiles.
Also Check: Click Here To Know More About The 2015 PakWheels Peshawar Auto Show
People of Peshawar, due to some unfortunate circumstances, haven't been able to enjoy outdoor activities and events arranged on a larger scale. And the PakWheels Auto Show is one step, in the direction to bring residents of Peshawar out of their homes and change their routine life for an eventful and positive day along, with their friends and families.
The people of Peshawar are considered to be some the most enthusiastic when it comes to rides. You will find all sorts of folks there who have modified their cars, SUVs and motorbikes. Peshawar has a rich history with regards to auto enthusiasts who have helped bring a positive change throughout the auto scene of Pakistan. It is about time they had an event that is going to showcase something that is so close to their hearts.
We hope that people from the surrounding areas will also be able to join us in celebrating this event. Let's make the PakWheels Peshawar Auto Show a great success so that others following PakWheels can also start investing their time and efforts for the betterment of the city of Peshawar and its image. We would also like to thank our sponsors and specially Deputy Commissioner Peshawar, for his efforts in bringing this opportunity to the people of Peshawar.
See you all there!