PakWheels.com Auto Show is a traveling auto show, it moves around the entire country to entertain everyone, especially those with a soft-spot in their hearts for cars. We call our auto show a celebration of all the automotive cultures; motorcycle culture is a world of its own, tuner cars is another culture, vintage and classic cultures; when you meet the people of these different cultures and their cars, you can actually see and recognize the diversity that is there amongst the automotive enthusiasts of these separate cultures.
Each culture was there to represent itself and try their best to make information available but the best knowledge was given through just the visual interaction. Infact most of it. You could feel the light tussle between the two biker groups standing against each other. Each of them had a bike second to none, each of them had a talented leader as one revved the engine from one group, another revved from the opposing group.
Deen Riders though, was neutral group based out of UK who loves motorcycling but also uses this hobby as a tool to promote Islam and everything good about it while also establishing charities to support needy Muslims around the world.
The vintage and classic group were in a class of their own, talking cars and spreading their information about their cars to everyone who chose to spoke a few words with them. Than there were exotics (which albeit came in very few numbers then last year).
The sports cars section had cars in bright colors; Skyline R-33 and R-34, Mazda RX-7, 350Z, Lancer Evolutions. Outside, all the RX-8s were formed in a ring together and ahead of them was perhaps the largest assortment of tuner cars Pakistan has ever seen. One push of throttle controlled the entire public. Even though, these tuner folks are known for being loud and notorious for not listening to requests, but none of them, even after the show made a burnout or did any type of forbidden activity in the interest of the safety of the public. So that's one cultural (Tuner) stereotype thrown out the window.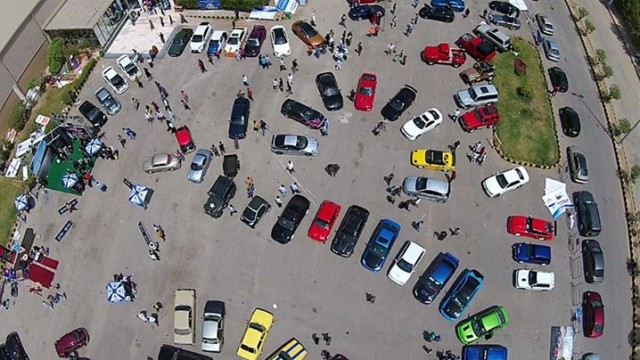 As the tuners were revving their engines, Faisal Bacha and Co. made the entry into the auto show, the sort of entry they are famous for. Massive number of bikers, all revving their engines hard and fast, as they arrived in the bikes area. Their arrival was followed by the bikers from Jahanzaib and Khurram's group and there entrance again attracted the crowd like bees on honey.
I have been a PakWheels Members for far too long than I have been a part of the organizing team and as a member, I did feel a lack of high-end automobiles but that was due to the floods affecting the car owners' hometown and few that got into an unfortunate accident but overall, there were people who complained, but there more than 100,000 people who attended the auto show and took part in its success.
For pictures, go here: Pakwheels Auto Show 2014 – Karachi Pictures