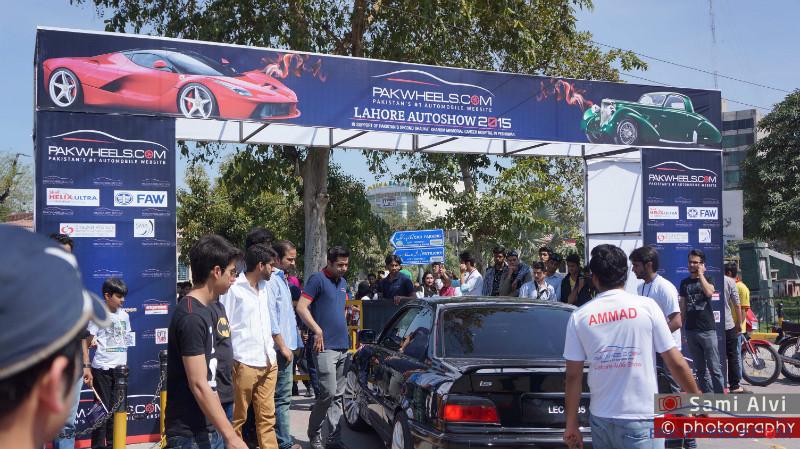 PakWheels Lahore Auto Show 2015
The 5th PakWheels Lahore Auto Show was held on March 22nd, 2015 in the Liberty market parking lot. Over 1000 cars and bikes were showcased in the event including Lamborghini and Ferrari's. The audience count went up to 100,000 people who got a chance of seeing some of the best and fastest cars in town. Not only the young blooded petrol enthusiasts, but whole families took part in the event to enjoy a Sunday with cars. The show was inaugurated by renowned celebrity Ali Zafar, who became a center of attraction for the people.
The Pakwheels Auto Show, which is held every year in March since 2011, is now the most popular and the only official Auto Show of Lahore which gives the automotive enthusiasts of Lahore a chance to exhibit their rides and meet other participants to exchange their views and feelings about machines.
Pakwheels Lahore Auto Show 2015 was held in collaboration with Shell, FAW and a few other automotive related brands. The show was dedicated to the cancer affected children from Shaukat Khanum Memorial Cancer Hospital. The children were given various gifts, including remote controlled toy cars.
Hundreds of high end motor bikes and expensive cars were showcased in the event for the audience. The public who attended the show were more than pleased to witness the best cars and bikes in the show and they expressed their positive feelings for the Pakwheels team for organizing such an event in the current, despondent situation of the country.  Moreover, people insisted for an increase in the number of events like these so that the automotive enthusiasts get a platform to display and witness high-end vehicles.
The gallery below will give a general overview of the Pakwheels Lahore Auto Show: