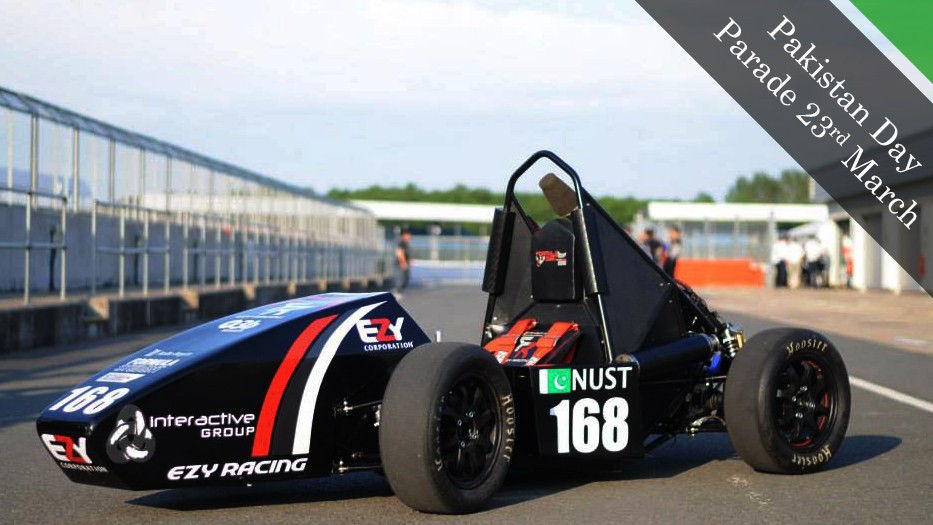 NAS14 Formula Car By NUST Students Showcased At The Pakistan Day Parade
After a gap of seven years, Pakistan Day Parade brought feelings of joy, enthusiasm and hope to the nation on the dawn of 23rd March. The day started with the traditional 31-gun salute in the federal capital of the country followed by a splendid fly-past of aircraft of Pakistan Air Force. Held in Islamabad, the event was presided over by President Mamnoon Hussain, Prime Minister Nawaz Sharif and Army Chief General Raheel Sharif.
It was on this auspicious occasion that the Formula Student car of Interactive NUST Formula Student Team, which was formerly known as Formula NUST Racing, was selected to be displayed on the float of Ministry of Science and Technology. The team's car of year 2014, NAS14 Formula Car, was part of the revered Pakistan Day Parade where it was looked upon as the pride of the nation. Interactive NUST Formula Student Team got the chance to shed light on the details of their Formula Student race car which took part in Formula Student UK 2014, organized by Institution of Mechanical Engineers (IMechE). Also, the Team's car made headlines on different television channels and was lauded for winning the IMechE's "Most Effective Communications Strategy Award" at FSUK 2014.
On the occasion, the country's military arsenal was put on display and different regiments of the armed forces of Pakistan marched past the dais, presenting their salutes to the President, marking a show of strength and solidarity. Floats representing the culture and pride of Pakistan were also part of the Parade, so all in all, the event served to raise the morale of the Interactive NUST Formula Student Team which will once again represent the nation at Formula Student, UK 2015 in an attempt to deliver a better performance than before. The Team will also take part in Formula Student Germany for the first time this year.