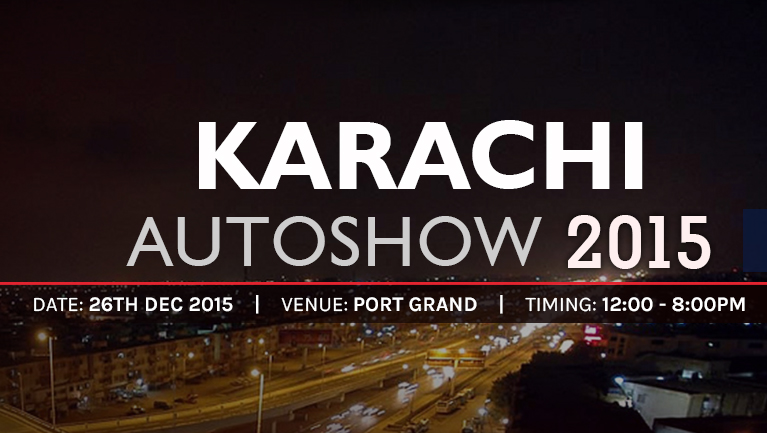 PakWheels Will Be Finishing The Year With The Karachi Auto Show 2015 On December 26
We will be rounding the year with our biggest show ever of all, PakWheels Karachi Auto Show 2015. It will be the third PakWheels Karachi Auto Show after 2013 and 2014, Karachi is the biggest and richest city of Pakistan and you can be assured, you will get to see some of the most amazing cars ever.
In 2013, the first PakWheels Show in the city of Karachi showcased 200 vehicles and attracted around 30,000 visitors. In 2014, the numbers jumped to 400 rides and around 75,000 visitors. Now in 2015, you can expect the numbers jumps even some more.
Register your car for the upcoming PakWheels Karachi Auto Show 2015 here.
We are coming to Karachi from Faisalabad after organizing Faisalabad's biggest auto show ever. The show was a great success and was attended by people from all walks of like. PakWheels Auto Shows now try to cater not just the auto enthusiasts but everyone who wants to have a great day. PakWheels Auto Shows have grown to be a lot more than just a car show. It was a complete fun-filled day with a variety of activities. PakWheels held a lucky draw and gave a lot of great prizes to lucky winners, like LED TVs, mobile phones, movie tickets, etc. The sponsors of the show also had their activities going on at their stalls as well. The categories of the cars included exotics, modified, vintage, sports cars, 4x4s and two-wheelers.
We are ready and pumped to finish the year on a high and bring you the best auto related entertainment at the upcoming PakWheels Karachi Auto Show 2015. We wish to see you all there. In the meanwhile enjoy the official PakWheels Faisalabad Auto Show 2015 video below:
PakWheels Faisalabad Auto Show 2015 from PakWheels.com on Vimeo.