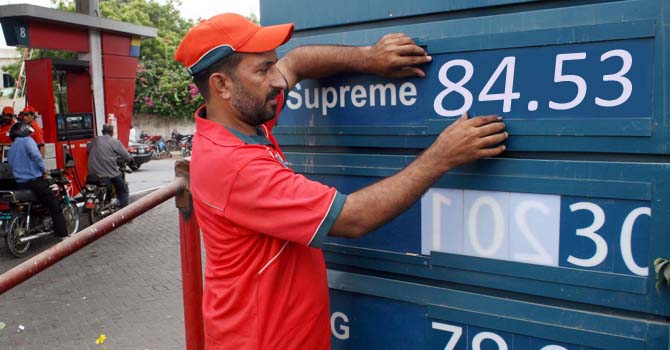 Petrol price further reduces by Rs. 9.66 per litre
Nawaz Sharif has announced to reduce the prices of petrol by Rs. 9.66 per litre. Effective Monday, petrol would be available for Rs. 84.53 per litre.
The announcement came on the inauguration ceremony of Hazara Motorway at Havelian, on Saturday. The Prime Minister also announced the reduction in the prices of diesel by Rs. 7.12 per litre, High Octane Blended Component (HOBC) by Rs. 10.18 per litre, kerosene by Rs. 4 per litre and light speed diesel by Rs. 5.39 per litre.
After the reduction, the new prices of POL products per litre would be as follows, diesel Rs. 94.9, HOBC Rs. 106.27, kerosene Rs. 83.5 and light speed diesel Rs. 77.98.
After the announcement, the PM said,
"I am sure with the reduction of these prices, the cost of production will also decrease along with the prices of food items as well,"
He also instructed the Chief Ministers of the provinces to make sure that the benefits of reduction in POL prices reach the citizens of the country in terms of lower transport fares and lower general price levels of all other items.
It is to be noted that the decision, to drastically reduce the fuel prices in Pakistan, came after the price of crude oil plunged to a record low in the international market on Thursday.