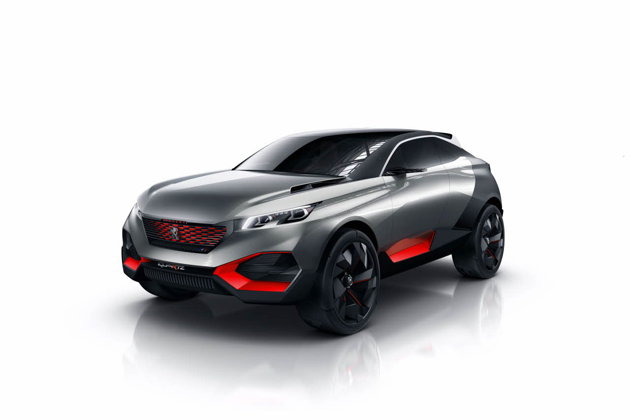 Peugeot surprises with a SUV
After the success of 2008 and 3008, Peugeot will propose other crossovers as well. Quartz concept gives us a foretaste of the coming achievements of the brand. There should be a sport!
This is a great and pleasant surprise from Peugeot. The list of new features of Lion brand for the Paris Motor Show lacked a strong element. For now, she had a facelift which already sold 508 units, a concept Exalt recycled and a "simple" version of the GT 308, but the firm now takes out the real star of the Paris Motor Show, the concept Quartz.
This is a sports crossover, measuring 4.50 m in length. Its design should influence the replacement for the 3008, but it surely gives clues to the look of the large SUV Peugeot prepared.
According to the firm Sochaux, Quartz merges the body of an SUV (lower part) and that of a sedan (top part). The car is mounted on big 23-inch wheels. There are codes for the last style Peugeot as grille incorporating logo (with a checkered pattern) or the optical body with a hook at the bottom. As the Exalt, Quartz has two colors with a straight cut just before the stern.
The car has edge doors that open like scissor doors, aided by retractable running boards. The pillar was removed without harming the body's rigidity thanks to a new manufacturing process. The concept is based on the EMP2 platform which is attached to a composite structure panels attached by gluing. Driver and passenger sit in bucket seats with 4-point harness.
Quartz uses his cockpit unpublished materials. For example; there's use of basalt stone at the center console. It is from a quenched magma contact elements. This concept also employs the world's first digital textile obtained by weaving. This innovative process allows for complex parts and large usable right out of the machine. There is no cutting achieve therefore drop.
Quartz is a plug-in hybrid that combines an internal combustion engine with two electric block, all for a power of 500 hp. Under the hood is the familiar 1.6 THP 270 hp, mated to a 6-speed automatic reports. An electrical block is placed on the front axle McPherson, the other on the rear multilink. Quartz can travel up to 50 km zero emission mode. The air suspension varies the ride height from 300 to 350mm automatically.