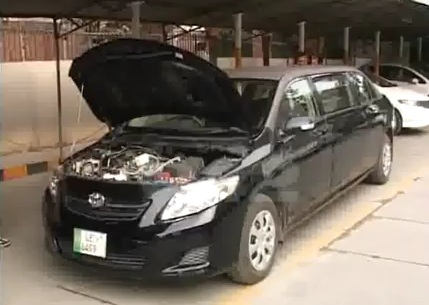 PHD from Lahore invents a Toyota Corolla which runs on water
There are many scam out there on the internet and the world trying to lure you into buying their product to save precious money through fuel saving and all of them are fake. The best fake though is worth mentioning, it was some sort of am/fm modulator look-like device that claimed to save fuel to as much as 50% if you plugged it in your car's lighter dock.
However, Dr. Ghulam Sarwar, was recently covered by local tv channel as he revealed his latest Toyota Corolla which runs on water.
According to Dr. Sarwar, the car runs on 60% water and rest is diesel while an ordinary car may emit carbon-dioxide and kill our planet earth as we know it, but this doesn't, this actually emits oxygen due to a system which separates hydrogen and oxygen from water and thusly, it doesn't emit carbon-dioxide.
Moreover, he also said that the car's research will be completed soon and by next year June, it can be run completely on water.
The research into the making of this technology took six long year but finally, the stretched out Corolla runs on 60% water and as per the Dr. Sarwar, the manufacturing of this kit will only cost 30,000 PKR and generate more than a million jobs.
That is quite an optimistic estimate so lets go out hunting for water now but, if this Corolla can really move through that technology, than the largest automakers bragging and investing billions of dollars into green technology must go back to school.