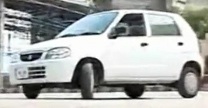 Physics teacher challenges Agha Waqar to run car on water, he accepts
You might've already started to believe that the water car is unreal but than it was from the very beginning and thanks to our media, who knows too little and talks too much, with help of P.R. agencies turned Agha Waqar to almost a national hero.
Now though, Professor Ranomal Malani who happens to be the brother of PPP MNA Dr Mahesh Malani, challenged Engineer Agha Waqar on Monday to run his car on water in front of everyone saying, "You will permanently run your car on it. It won't be a test demonstration." and if he's successful, Engineer Agha Waqar will win Rs5 million as a prize.
Waqar has accepted the challenge, promised to run all his cars solely on water, further saying that he does not want to bribed by the prize money and Prof. Malani should instead distribute the money amongst poor.
Replying to Engineer Waqar's acceptance, Prof. Malani have provided him 10 days to prepare his kits to run his car on water.
"He had hidden a Hydrogen cylinder in his demonstration on TV. He fooled everyone. I know it because I teach Physics. This is impossible," alleged Malani.