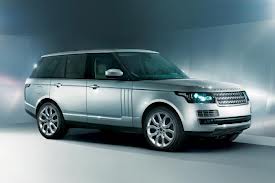 Pictures: All new 2013 Range Rover revealed
When we first saw the pictures of the new Range Rover leaked on the internet which was just before Range Rover actually releasing them online, we had seriously thought that is this the way India takes revenge on the British?
It is ugly. No questions asked even though it has lost 700 pounds, thanks to an all-aluminum unibody structure and has borrowed styling cues from the baby Range Rover Evoque.
"The new aluminum platform delivers significant enhancements in performance and agility, along with an improvement in fuel economy and reduction in CO2 emissions," said Land Rover in a statement.
Land Rover confirmed that the new Range Rover 2013 "will continue to offer a choice of V8 engines in the North American market, enhanced by new eight-speed ZF automatic transmissions." The announcement appears to rule out the use of Jaguar Land Rover's new 3.0-liter supercharged V6 engine in the 2013 Range Rover.
The 2013 Range Rover gets a re-engineered four-corner air suspension and new suspension architecture to deliver flatter cornering abilities. The cabin gets some improvements as well, with rear legroom increasing by 4.7 inches. A two-place rear seating package is optional.