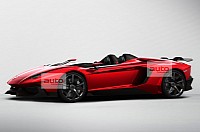 Pictures of Lamborghini Aventador Speedster J leaked
Internets is a pretty fascinating realm, people have become billionaires through it while some went bankrupt. The crusaders of free internet strived hard against the oppressive bills that US congress was pushing hard to get approved, the whole internet united and blacked out in protest eventually winning over the tyrants.
As the pictures of the next Lamborghini Aventador Speedster J started to make rounds on the internet, I recalled a incident at Pakwheels when pictures of Pak Suzuki's Swift was leaked on Pakwheels.
Pak Suzuki made all effort to push Pakwheels' management to pull them off which we didn't even though the model Pak Suzuki was launching was being replaced internationally with a face-lift.
Another guy lost his job at Indus Motors when he leaked Corolla's picture on Pakwheels, but internationally, companies started to camouflage their vehicles to avoid them being revealed before time as in launching a new product, timing is primary and everything else is secondary.
Czech website Autoforum  have leaked out another very important car that will debut early next week at the Geneva Motor Show but has been revealed ahead of schedule.
Called the Aventador Speedster J, the car you see is basically a speedster, with no windscreen or roof. The nose, side skirs and rear diffuser have all been enhanced with carbon fiber by the looks of it, and the wheels also have this lightweight material in them.
The rear wing has a a distinct DTM look to it and the suspension looks to have been lowered.
This was done by Mercedes in the past, when they built the SLR Stirling Moss Edition.
Geneva Motor Show will be the host of yet another car from Lamborghini. They have officially released a teaser video for something that we believe to be a limited production version of the Sesto Elemento Concept, a super lightweight track car with mental performance.
https://youtube.com/watch?v=LgRfGVDDswU