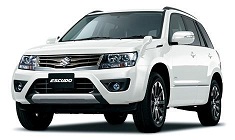 Pictures: Suzuki Grand Vitara gets a facelift in Japan
Although the changes made to the Grand Vitara are minor, however they have been made before the designated or what the business execs would refer to as product life-cycle.
This generation of Grand Vitara or Escudo as it is known in Japan was unveiled back in 2005 and had been given a mild facelift in 2008 with two newer engines available as well but now, to keep the Grand Vitara fresh, Suzuki has given it another facelift.
The progress from the older model is quite apparent even though the interior is largely untouched. At the front, new headlights, grille and bumpers while the dash looks exactly the same as that of the current car, however, some material quality improvements are warranted, as the car never really excelled in this area.
Japanese customers will also get a special X-Adventure edition of the Escudo, which packages features like a sunroof, stability control, 18-inch wheels, and an interior with contrasting red stitching on the suede-look seats and leather-wrapped wheel and gearshift.
On its local auto market, meaning Japan, the 2013 model year will be powered by the 2.4 liter engine, which is developing a total output of 164 horsepower and it has a peak torque of 225 Nm (166 lb-ft), mated to a five-speed manual transmission or a four-speed automatic. The all-wheel drive system is available as an option. No price list has been announced yet for the 2013 Suzuki Grand Vitara (Escudo).
It has also been confirmed by Suzuki that the new Grand Vitara will be available soon and some, if not all the change will be available globally.