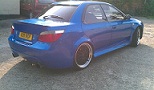 Subaru Impreza gets converted into BMW at the back and an Audi at the front
This is the ultimate case of identity crisis in cars, a Subaru Impreza owner gave his car some fresh looks by fitting a pair of BMW 5 series tail lights and gave a thorough facelift of an Audi A4 at the front. The result of which you can see.
Perhaps the owner wanted a rally car but wanted it to be German but since Germans don't build a production rally car these days, so it was impossible for the owner to fulfill their wishes but Subaru Audi BMW Impreza WRX A4 520.
This car has the underpinnings of a 1993 Subaru Impreza, it features a 2.0 liter F4 engine with 240hp. The rear is taken from a BMW 520 which apparently sported dual exhaust tips and a boot lid spoiler. The whole front comes from an Audi A4, from grilles to head lights et al.
Although it is quite a neat job overall as the bodywork looks quite good and everything appears to be fitted well and the paintwork isn't too bad either but, no body wouldn't want a cross between two German automakers and a Japanese rally bred car.
The car was built in Ipswich, United Kingdom and is for sale at the moment on Ebay. At the time of writing it had three bids with the price at £1,650 and 8 days 05 hours left to go.