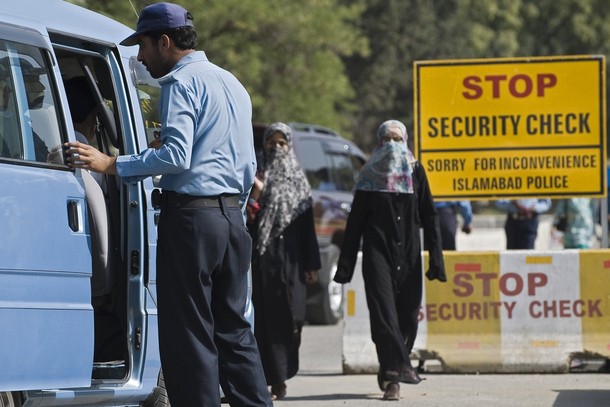 Are Police check posts for security or begging?!
Police check posts are quite common nowadays due to the predicament law and order situation in the country while Pakistan Army goes on to fight a crucial war. But, the irony is that these check posts are not entirely meant to control crimes and other illegitimate activities and often viewed by citizens as a nuisance. A similar incident has become a regular part of my routine.
It first happened with me when I was driving on Multan Road, Lahore heading towards EME housing society when a police man just gave me a stop signal on a police check post near Metro Cash n Carry. I stopped immediately, he came to me greeted me with great respect and humbleness and then said, "Sir aap over speeding kr rae thy isi liye apko roka (Sir, we stopped you for over speeding)".
Those words seriously sounded mystifying and I told him that there was no speed gun around and that particular police check post, and it was not meant to stop the traffic violators. He took a long pause; I could genuinely see fluctuating expressions on his face and tears surfacing his lowered eyes, and then he said, "Sir, subah 8 bje se duty pe khara hun and abhi tk kuch nhi khaya, mehrbani kr k khane k liye kuch paise de dein apka ehsan hmesha yaad rkhun ga (Sir I'm on duty since 8:00 in the morning and haven't eaten anything yet, please give me some money for food I will always be indebted to you)". It was 3:00 pm and a very hot day indeed, the sun was burning severely. I felt bad inside and could not think of driving away without helping a needy dis-hearted police man. I gave him Rs 100 and I saw the tears of thankfulness in his eyes, he grabbed my hand warmly and said, "Allah apko buhat dy ga Sir (God will bless you with a lot more)".
Few days later, I saw a permanent police check post newly setup near my university. About a month later, an old police man with a white beard at the newly set up check post gave me a pointer signal to stop, I stopped instantly. He came to me and asked, "University se aa rahe ho?" (Are you coming from university?).
I replied in positive. On hearing that he said, "Mere bachon jese ho tm, mai tumse batmeezi nhi kr skta, bus pani pila do kahen se (You are like my son, I can't misbehave with you, just get me some water from somewhere)". I offered him a cold drink that I had with me which I was about to drink, he took it with gratitude and went on duty again.
A week later, on my way back to university, the same old police man again gave me a signal to stop. I felt irritated, anyhow he came to the car window and said "Alloy rim tou buhat mehange lagwae hain, humara bhi kuch khayal kr lein!" I replied rudely "Yeh roz ka mazak nhi bana liya ap ne? (You have considered it a routine joke)".
On hearing this he replied with a penitent tone, "20000 tankhwa hai, bachon ko khilaun ya yahan duty krte huay pani pe kr garmi bhagaun? Sorry beta apko tang kiya, ap jaen! Allah hi humare pe rehm kre ga (My Salary is 20000 a month, shall I feed my children or buy water for myself to get rid of thirst during duty? Sorry to disturb you son, please go! God will help us".
I wonder what are these check posts for? Begging or for security?! People who are begging for food and water on their duty, how will they ensure security of citizens and even VIPs? An unanswered question. But atleast the government can provide free education to Police personnel's children.