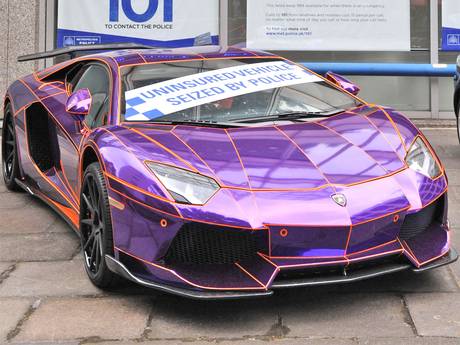 Qatari impounded Lamborghini Aventador may get crushed
No, I am not joking. Here is how it all started. A wealthy Arab goes to the United Kingdom for the holidays and brings his shiny purple wrapped Lamborghini Aventador with "glow-in-the-dark" orange pin stripping along. The London police pull him over for not having a front number plate, but upon further inspection they find that the owner does not have proper insurance for it.
The police tows it away and impounds it. The Lamborghini supposedly belongs to a 24-year old Nasser Thani a member of the royal Al-Thani family, current rulers of Qatar.
The police is however waiting for issuing charges against the driver. Could it be crushed? Maybe, it has happened in the past, and with the London police impounding more and more supercars, they might as well do that.
But, honestly who in their right mind would even think of crushing a car like the Aventador? It could be auctioned off well, who knows? Either way, we know one thing for sure, the owner would certainly not let an impounded Aventador ruin his vacations.