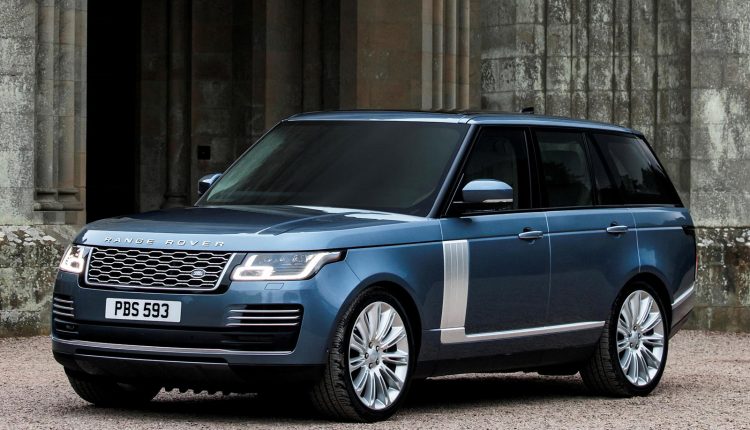 Range Rover 2020 Vogue-First Look Review 
PakWheels is back with the first look review of the Range Rover 2020 Vogue P400 Electric Hybrid car. This review will tell you about the car's exterior, interior, and key features. The owner claimed that this is the most luxurious SUV in the world.
According to the owner, he has installed special features in the car to give his clients something new.
So, without any further delay, let's start the review.
Charging Portal and Time: 
The owner of the car told PakWheels that its charging portal is at the front of the vehicle, and its charging time is 7-8 hours. "If you use the fast charger of Range Rover 2020 Vogue, it will take only four hours," he stated. He further stated that you can drive it up to 40 kilometers in a single charge. "If you drive it on high speed, it will cover less distance in one charge," he explained.

Drive of Range Rover 2020 Vogue:
According to the owner, you can drive it on both petrol and electric. If you want to save your fuel cost, you can shift it into EV mode. "Basically, all-electric is a backup for this car; if you can't find Hi-octane nearby, you can shift it to electric mode and reach your destination," he said.
Engine of Range Rover 2020 Vogue: 
The Range Rover 2020 Vogue comes with a 2L Turbocharged 296hp engine with integrated motor around 114hp. 
0-100 of Range Rover 2020 Vogue:
The car reaches from 0 to 100 in 6.46 seconds.
Exterior: 
The car has matrix LED lights, fog lamps, parking sensors, a camera, and a charging portal. The company has installed a unique chrome front grille and named it Matrix Design Grille.
The diffusers and fog lamp covers are of plastic.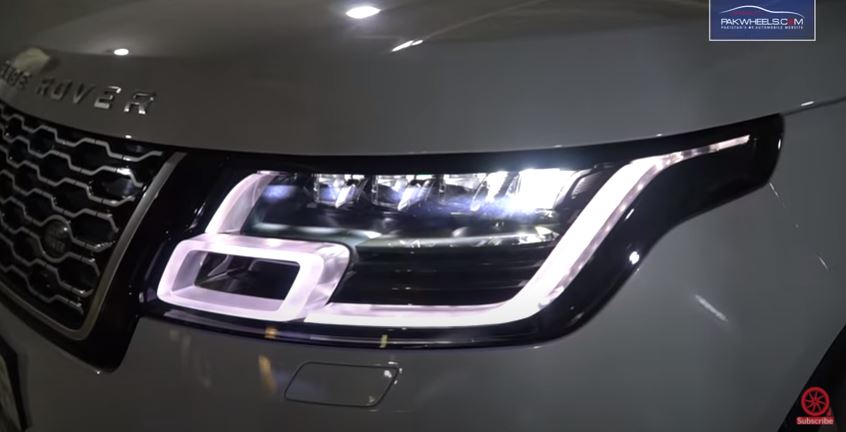 If you come to the side, you will notice that it is longer than a regular SUV. "It is eight-inch longer than other SUVs, giving it a spacious and exclusive look," the owner said. Furthermore, the car has a silver-chromed border on front doors, while retractable side indicators also have a chrome line.
The SUV has flamed rear lights, while the company has installed a 360-degree camera on the trunk door. Furthermore, it has an elevated brake lamp and shark fin antenna at the back.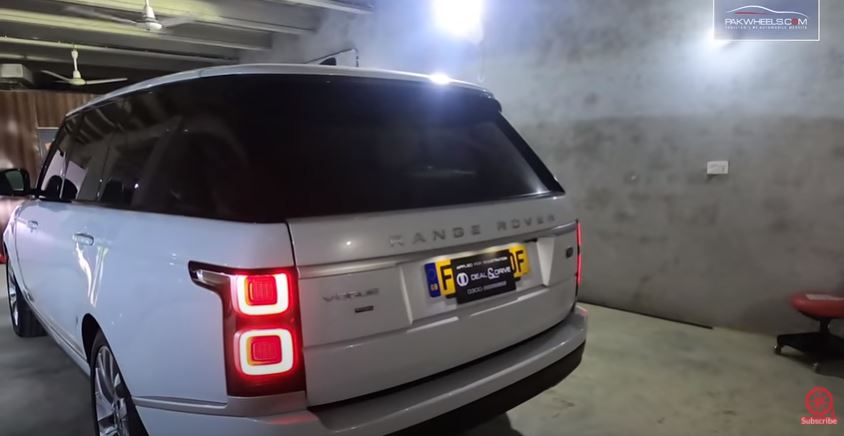 The SUV has door handles with sensors, as you don't need to use the key to open or close the doors. The doors of this car has soft close feature, which means you don't have to use any power to shut them down. If you use force on the door, it catchers will break. Moreover, this car has double glazed privacy window glasses, which is a costly feature. This glass is excellent for soundproofing and heat control.
Wheel Size: 
The company has installed 21-inch specially-designed alloy rims in this car.

Trunk Space in Range Rover 2020 Vogue: 
The car has an auto trunk that you can use with a key. Furthermore, it has air suspensions, through which you can adjust the height of the vehicle. It has two buttons to close the lower and upper part of the trunk.
Unique Features of Interior: 
It is the autobiography variant with a red leather interior, a meridian sound system with 22 dual-woofer speakers, and a sued roof. Furthermore, it has electric memory seats with ventilation as you can set their temperature as per your choice. Meanwhile, it has chromed window controls.
The car has ample head and sitting space on both front and back seats. You can use the power window, curtains, and entertainment system from all the seats in the car. On the back seats, there are separate entertainment systems, which the passengers can use separately.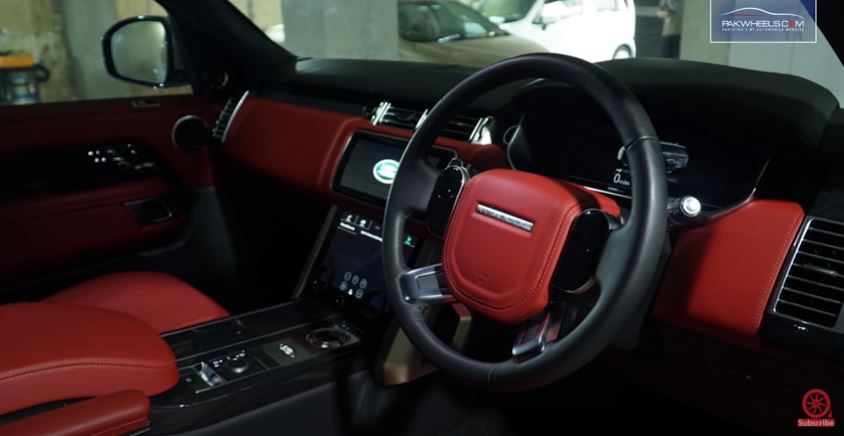 Other interior features include exclusive red leather, cool box, dual climate control, USB slot, cosmetic lights, and separate AC vents for all seats.
The armrest on back seats is electronic, as you cannot use it manually. The armrest has cupholders, where you can keep your drink warm or cold.

Speedometer and Infotainment: 
The speedometer of the car shows the charging sign, driving mode, mileage, and fuel average. The steering has a leather covering, with controls. You can connect Bluetooth, attend calls, lane change, and use the cruise control option from the steering.
The touchscreen infotainment system shows back, front, 360 cameras. Meanwhile, it has a park assisting system and DVD player. There is another touch screen under the main one, from which you can control the car's temperatures.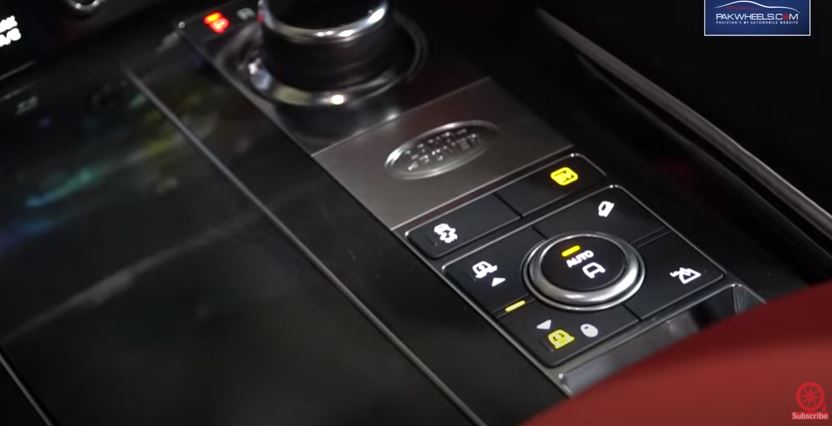 The central console has different driving modes and gear knob. The car has a cool box, USB, adapter options under the front armrest.
One of the car's prominent features is its panoramic sunroof, which you can open or shut very conveniently.
Price of Range Rover 2020 Vogue: 
According to the owner, the price of this car is Rs5 crore, 50 lakhs, in other words, Rs55million.
Watch Video: