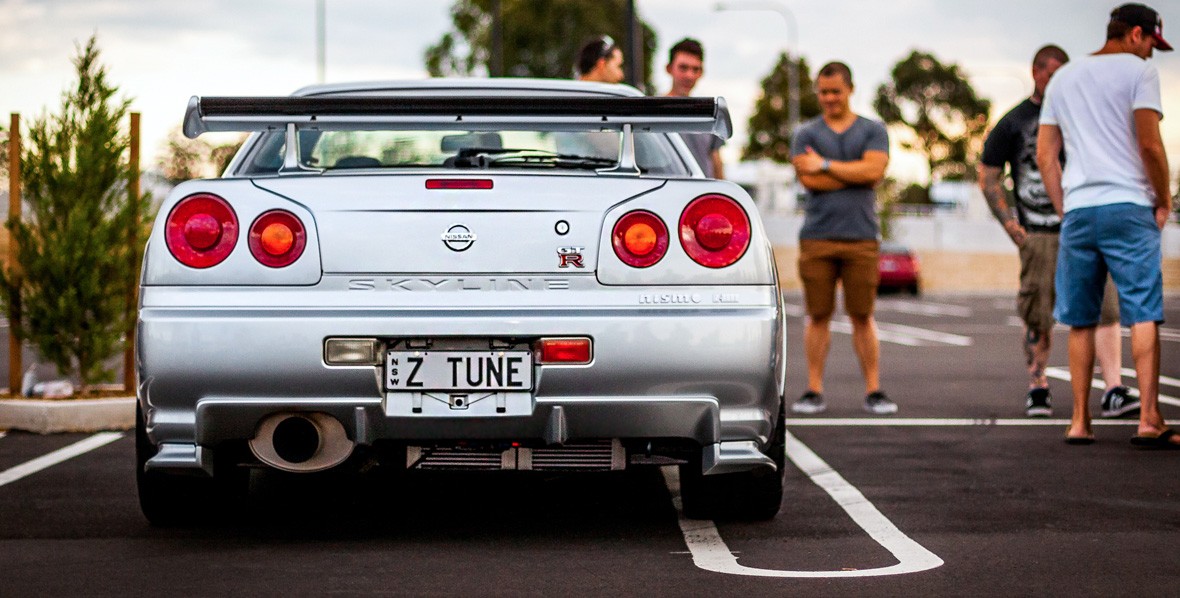 Rare NISMO Z-Tune Nissan Skyline GT-R R34 Selling For Over $575,000
Who doesn't know about "Godzilla" of automobiles? This is a Nissan GT-R, which has put many super cars to shame due to its exhilarating speed, technology at a much lesser cost. The current generation of Nissan GT-R is the successor to the most beautiful ever green Nissan Skyline GT-R.
Skyline remained in production for 4 generations from 1969 till 2002. Every generation of GT-R had its own charm and attraction among the automotive enthusiasts. Fans still keep looking for these cars and we have a few of the 4th generation Skylines in Pakistan as well. I am not sure how original these GT-Rs are (may be the owner can let us know in the comments). The round tail lights of Skyline were so attractive that Nissan took over the same design concept to the current generation of Godzilla. Skyline GT-R reached to many victory stands during its lifespan.
NISMO which is an an abbreviation or short for  "Nissan Motorsport International Limited" is another word you will mostly hear along side Nissan and Skyline. It is a motorsports racing and performance division of Nissan. In other words, NISMO is to Nissan, what AMG is to Mercedes. Over the years, NISMO has been developing many performance parts for Nissan cars line up including Datsun and Infiniti as well as producing fully upgraded Nissan cars. To celebrate the 20 years of NISMO, 20 special limited R34 Skylines were produced and named as NISIMO Z-Tune. NISMO could not get hands on brand new R34 Skylines as the production was already stopped few years ago at that time. The only option was to buy back 20 already sold Skylines.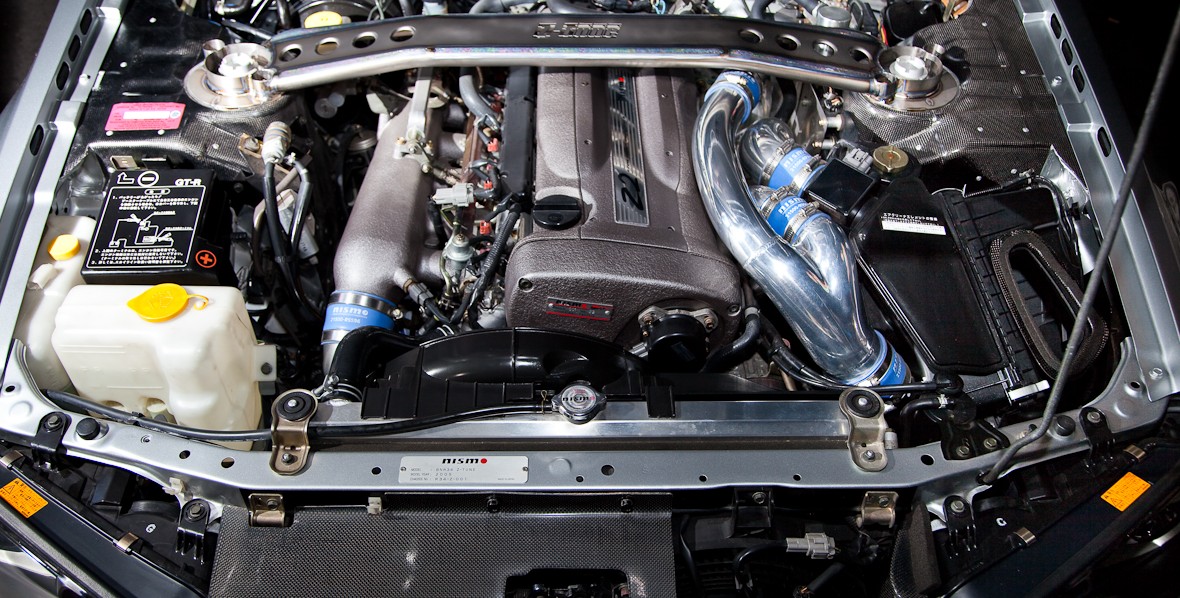 NISMO only found 12 finest cars which fulfilled the strict criteria like cars with less than 30,000 kilometers on odometers as well no modifications, accidents or other exterior or interior damage. Remaining 8 cars which were able to fulfill all required check boxes for Z TUNE were donated by their sincere owners who didn't want to sell their cars to NISMO but wanted to get it converted. Regular R34 were powered by famous 2.6L inline 6, RB 26DETT engine with  276 HP power output while torque figures are around 260 lb-ft.
Z TUNE has a 2.8L twin turbo engine instead and it has inherited most of its technology from GT 500 GT-R and endurance racing GT-R cars. NISMO modified and tuned the engine to produce over 493 hp and 398 lb-ft of torque. All this was achieved after extensive engine upgrades including forged camshafts, engine block, forged crank shafts, a new larger turbocharger made by IHI and inter-cooler with increased capacity. A newly designed intake and redesigned exhaust manifold were also a part of the Z-Tune.
Body shell was also improved by  using spot welding in door frames and carbon fibers parts were also used to increase the toughness of the chassis. Special suspension with adjustable damper and braking system, a new clutch to withstand above 550 hp and lightweight forged aluminum wheels are few items from the long list of upgraded parts.
Exterior modification can be seen in form of having a larger opening in front bumper for an upgraded larger inter-cooler, and a vented hood and fenders. The car was painted in distinct silver color which is very specific to Z-Tune Skyline only. According to NISMO, the Z-Tune is capable of doing a quarter-mile in an impressive 10.06 seconds. Just a reminder that the standard 2013 R35 Nissan GT-R does a quarter mile in 10.8 seconds.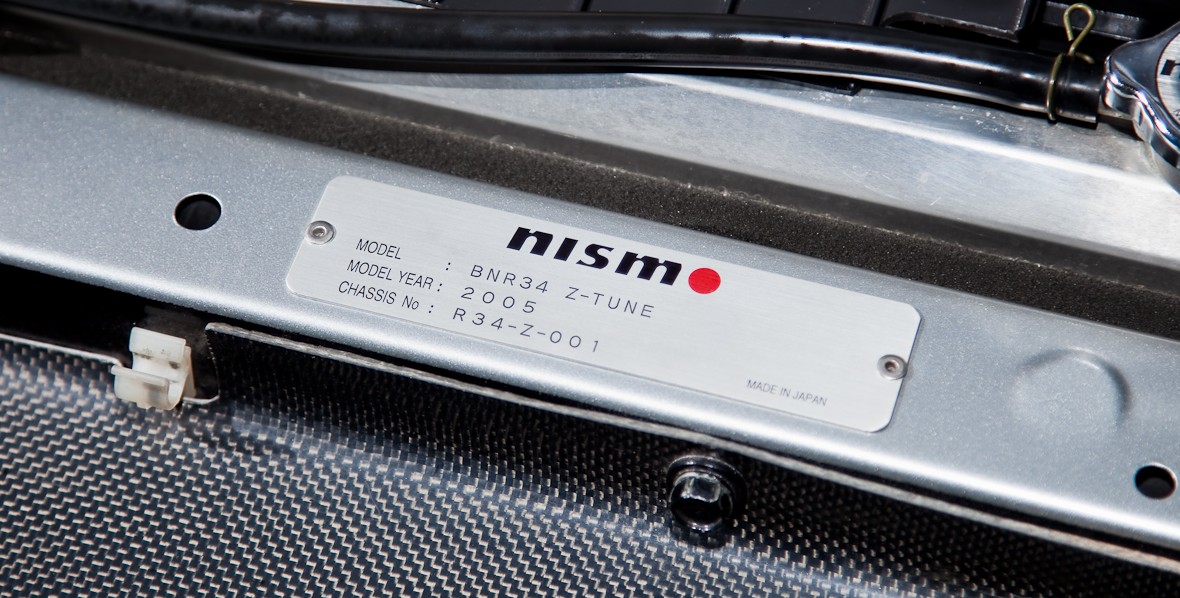 There are not many cars from Japan which can make it to the list of collector items but now there is one just recently which is trending around the globe among the automotive enthusiasts and it looks like everyone wants it. This is a 2005 Z-Tune build #001, which is converted from a 1999 R34 and is currently on sale in Australia to the highest bidder. Being the first built, makes this car even more special. There is no surprise that the car has already received offers above USD $575,000 and there are many more offers on the way. At this pric,e one can buy most of the super cars available in the market like Ferrari 458 or may be a McLaren 650S, An Aventador or two Huracans.  Skyline Z-Tune cars were already regarded as the most expensive street legal GT-Rs with average price near USD $200,000.
But well, there is a famous quotation in Urdu which can answer everything very easily "Shouq Ka Koi Mol Nahin".  If you want to place an offer you can do so by filling up your information at the source.
For more technical specification: NISMO R34 GT-R Z-Tune