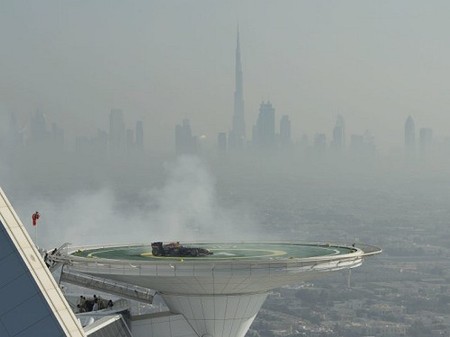 RedBull F1 car does burnout and donuts on Burj Al-Arab's Helipad
Well Roger Federrer and Andre Agassi have played tennis on the same helipad for promotion purposes of the Burj Al-Arab and now, the current Formula One champion's car flew to the helipad and left massive skid marks and donuts on it as well.
Red Bull had David Coulthard hop into the seat of their F1 car, airlifted him to the helipad and then had him go complete mad on the helipad. Why? Because Red Bull has this thing for all things extreme, they recently had a man jump from the edge of space (where Earth atmosphere meets space) to the ground and so to celebrate their victory of being the Formula One World Champions, they had to think of better victory dance and so they have.
Here's the video of the entire stunt!