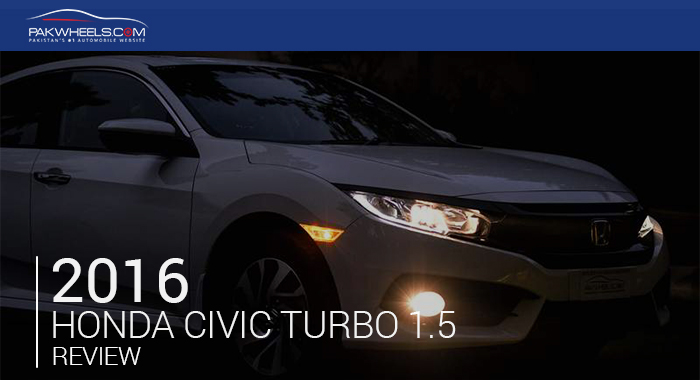 All New Honda Civic 2016 1.5 Turbo Review
In July 2016, Honda introduced the 10th generation of Civic in three variants; 1.8 I-VTEC CVT, Oriel 1.8 I-VTEC CVT, and Turbo 1.5 VTEC CVT.
Interior
Honda Civic 2016 1.5L Turbo has an interior full of gadgets such as push start, rear entertainment, and traction control. Moreover, for the first time in Pakistan, electronic handbrake has also been introduced. Although Civic Turbo comes with an advanced and sophisticated captive touch screen audio/video system, but it still has some technical glitches. Bad news for the smokers as the car doesn't have cigarette lighter or ashtray. The car has one cup holder on the front seat and two cup-holders on the backseat. The gorgeous and sporty steering wheel is adjustable according to the driver's ease. The multifunction steering wheel allows the driver to control volume and cruise control from the steering. Paddle shifters, located just beside the steering wheel, can be used if the driver wants to go for a manual drive. Another salient feature of Civic 2016 1.5L Turbo is meter cluster with multi-information LCD. The rear floor bed isn't flat, which could cause inconvenience for the passenger sitting in the middle of the backseat. Trunk capacity of 425 liters provides enough room for luggage.
Exterior
Honda Civic Turbo's curvy exterior looks elegant and sporty. This sophisticated car comes with keyless entry. Moreover, it also has an immobilizer (an electronic security device) that reduces the theft risk. FULL-LED headlights with LED Daytime Running Light make the car more attractive and eye-catching. This gorgeous car also has dual exhaust. Moreover, the power retractable door mirrors with LED turning signals make this car more sophisticated. Civic Turbo has BG Luxo Plus tires, which are a brand of General Tyres. These are high-speed tires and can support the car up to the speed of 210 Km/hour. 'General Tyres' has produced this tire brand in collaboration with Continental Germany and Honda Japan.
Performance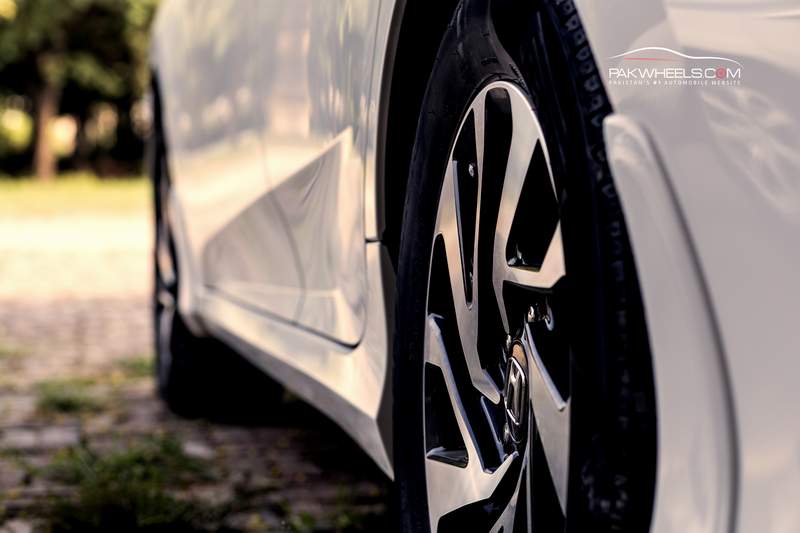 Honda Civic 1.5 turbo interior is quite spacious, as there is enough overall space. Because of the turbo engine, Honda Civic 1.5 turbo has an excellent throttle response and magnificent acceleration. As compared to the previous models, Civic 1.5 turbo has much better road grip and handling. Moreover, it also has an excellent ground clearance. The car gives a smooth ride on  paved roads and has the ability to absorb shocks on bumpy roads. Civic 1.5 turbo also has digital climate control that intelligently cools the car. Furthermore, for the comfort of backseat passengers, the car has rear AC vents.
Safety
Honda Civic 1.5 Turbo has cruise control, seat belts, and dual airbags that make the driving safer.
Premium Fuel
If you are interested in buying Honda Civic 1.5 but are hesitant because of the unavailability of quality fuel, don't worry because the government has deregulated premium fuel sector. In simple words, after November it will be easy to get premium fuel. The Honda Civic Turbo has a mileage average of 8 Km/Liter in city and 10 Km/Liter on a highway. The Turbo engine usually gives low mileage, which is quite understandable.
Although the overall car has superb quality but it still needs improvement, because the customer expects everything to be perfect for such an expensive car. There's still a margin of improvement in the car's interior quality. The welding between doors is better, but it can be improved. The audio system also needs up-gradation.
Regardless of these small flaws, the overall quality of the car is terrific and worth buying.
Below is the video review of Honda Civic Turbo 1.5 VTEC CVT by PakWheels.com: